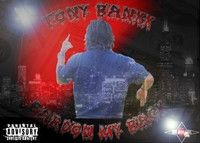 Storm Lake, Iowa may not sound like a rap epicenter, but there actually is a potent and growing hip hop scene. A rising figure in this scene is Chicago native Antonio Maurice Banks a.k.a. "Tony Banxx."
Mr. Banxx recently stepped up his internet presence, and he currently offers several fresh tracks for your listening enjoyment…
With the track "Pardon My Back," a lil' keyboard riff sets a tone of tension and provides a good foundation for Banxx to freestyle. A few of the lines stand out, especially this one: "I'ma eat that pussy like a dog / Now where the fuck is my chow at!" Nothing like some good tangible imagery to get the message across. But it's also about the delivery, and at some point around 2:50, Banxx raps at a pace that is almost superhuman. It's as if the words are competing with the speed of sound. Reminds me of Mr. Tech N9ne.
"Somewhere By Da Moon" has a festive jingle. I feel slightly intoxicated listening to this track. Supporting this feeling of mine are the lyrics: "I pour it up then I toast." Sizzurp? Seems there is also a bona fide pimping reference: "Mr. Smack dat hoe ass / then put her on da stroll."
"She Amazin" is a truly lively track. There are some sinister-sounding elements going on here, especially the background vocals at 1:05.
"Tell Me" took me by surprise, as it has a pop-rock feel at first. Fear not, though, the rappin' arrives. The background synthesizer is a bit hypnotic. This track is sensual and trippy at the same time.
Tony Banxx 'Intro on Pardon My Back'
http://youtu.be/K1Dd-4vr_mM
We have some female vocals with the track "Good Girl." She sounds kinda sultry with such lines as: "Cuz I don't know how to be good." Dang, I don't know how to be good either, sweet thang!
"Boss" is a stellar hip hop track, though I slightly disapprove of the "Brett Favre" reference. This disapproval subsides, however, in the face of an engaging narrative, during which the speaker has a young lady "playing with her nipples."
"Nonstop II" is one ass-kickin' lil' tune. Good stuff for those who like to combine hip hop with their workouts.
Gotta admit, Mr. Banxx is a mean dude on the mic.
Care to connect? We got links, links, links…
 
Website: http://www.tonybanxxworld.com/
Twitter:   https://twitter.com/tonybanxx
Facebook:   https://www.facebook.com/TonyBanxx
Instagram:   http://instagram.com/tonybanxx#
Youtube:   http://www.youtube.com/channel/UCHd0feYNxUIOnT2eExS4j6g
Soundcloud:   https://soundcloud.com/tonybanxx
Ray Cavanaugh – owleyesgatsby@yahoo.com