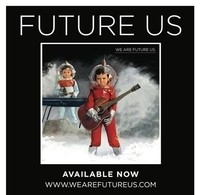 If one were to gaze into Future Us' crystal ball, one would see we are headed toward "Organic Electronic Sex-Pop" and this turns out to be a pretty apt descriptor. Combining the edgy vocals of Megan Heavlin Ochoa and the organic and electronic instrumentation wizardry of Daniel Durrett, Future Us is electronica-dominated dance tracks with pockets of live instrumentation over provocative lyrical matter. And if you thing their description is a mouthful; wait until you try to swallow all of the multi-faceted soundscapes and dimensions on the EP.
The album opens with "No Good" which eases the listener into the electronica barrage to come with simple drum machine beat and intermittent clicks and clanks from keys. Megan's lush vocal delivery drives the track until electric guitar riff work joins and the components of sound become a full sum of the parts. The electric guitar work is especially good and tight and melds well with the backing electronica. Acoustic strum and vocal interaction open "On My Mind" before surrendering slightly as the electronica builds in the background featuring piano ivory and synthy blasts a la dub step at the chorus. The dour feel of the cacophony adds to the sultry feel of the track as a whole and stays thematically intact with the sex ethos of the album. "Ride" comes out of the gate with the electronica on its sleeve. More strange backing beat of clicks and clanks usher this one into the first verse. The track plays out in a "vocals versus vibe" with nary an organic instrument to be heard. More backing electronic sequences open "In His Kiss." Megan's vampy vocal delivery conjures elements of sultry 30s lounge while the backing keys speak to contemporary electronica. The melding is at first jarring until the two facets finally find cohesion around the mid-track point.
https://www.facebook.com/wearefutureus
The focal point of the EP is Megan's vocal delivery and the multiple facets she can achieve through them: raspy and gruff when needed and sultry and melodic when appropriate for the track feel. The electronica runs amok on the album and proves that Daniel has a command of electronic music and beat making. That being said, the organic instrumentation, when it appears, is good in its own right and it left me wishing there were more of it. If the ratio of the two could be brought more to balanced, I feel the tracks could expand into something more than a vocal/electronic tandem.              
by Chris West – cwestlaz@gmail.com
I give this 3 Skopes.