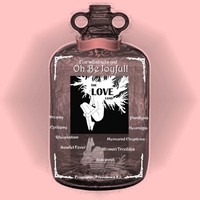 3 member DC based band "The Love Load" just dropped their latest 4 track EP entitled "Oh Be Joyful" in 2013. Band consists of: Ted Watts, bass, vox, Ben Azzara, drummer and Blaine Misner, guitar, backing vox. Straight away I discovered The Love Load to have a powerful yet sensational, eccentric sound. I really like the way things kick off. Immediately with Track 1 "Judgment." It delivers really raw psychedelic guitars and overall grunge sound with some compelling vocals, tripped out writing style and superfluous melodic touches that really bring the song home. Right away I can hear bands like The Vines, Velvet Underground, The Hives, Klaxons, The Subways and even The Killers. Track 2 and 3 "This House" and "Summer of Love" really give you the impression as if you're listening to a 70's band with a more modern-day hard rock twist. The musical flow of both tracks are eccentric, bold and will push you hard. Not just musically but also lyrically. I get the impression these lads are real risk takers with their music. Despite this they manage to somehow stay within the fairway of marketability but definitely push boundaries. These are compliments by the way. The musicianship follows down the same path offering up much in the way of a 3 piece rock band. Built on frenzious, harmonic notes that are plucked from the heavens. As the passionate provocative narrative unfolded I was blown away. Telling ordinary tales of extraordinary things, The Love Load connects us to the universal power and emotional rawness of love, loss, favor and fury. The result is potent and mesmerizing. Heavy. Beautiful. Playing – The Love Load unleash their cosmic fury and will induce the same in their audience. From beginning to end this EP keeps the same party mood while maintaining a mysterious funked-out hard rock feel. As for Watts vocally he delivers emotionally invigorating performance that will remind you of a modern day Michael Stipe or even Tom Waits on steroids. His high pitch, vocals blends with the great guitar riffs and musical ambience well.
Criticism: All songs are too short.
In conclusion, this is one EP package that will bring back memories of a not so distant age where good rock music rocked the airwaves and possessed a more simplistic feel. All the while inspiring people with amazing artistic energy to get people thinking, singing, dancing and even helped them start a revolution. To me The Love Load is hard, heavy, rock and roll, re-imagined and reinvigorated. It's The Love Load.
Final Score: 8/10 Stars
FACEBOOK: http://www.facebook.com/pages/The-Love-Load/164656256887745
TWITTER: https://twitter.com/TheLoveLoad
by Erica Carr, edited by J.J. McCall