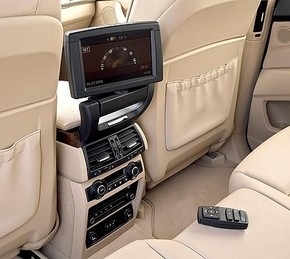 Watching YouTube videos usually require an Internet connection, but with advanced preparation, you can download and save the videos for later offline viewing. Here are some places you can bring your videos for offline enjoyment.
Road Trip With Kids
Kids are energetic and creative. They love to explore, experiment, ask questions and test the rules. While curiosity is healthy, it can put your parenting skills to the test when kids are confined to the vehicle on long road trips. As a parent, you're probably all too familiar with the back-seat refrain of "Are we there yet?"
Fortunately, you can keep your kids occupied and happy while you ferry them from point A to B. Television screens are everywhere — on your cell phones, in public restrooms, on portable movie players, and inside your car and minivan.
If you're going on a long road trip, educational, informative, and entertainment videos should be at the top of your list. Even the most finicky rear seat passenger will lose track of time once the on-screen entertainment begins. You might also want to bring along a few headphones if you would like to have some quiet time in the driver's seat.
Office Presentations
Today's technology makes it a simple matter to convert your presentations into videos for easy viewing and distribution.
A presentation that displays as a continuous video is the best way to share content with colleagues and customers. Video format is also ideal for publishing to the web and sending email attachments. Use http://youtubedownload.altervista.org to download presentations and review the contents in offline mode. This way, you won't have to wait until you're connected to the internet to watch the presentation.
If you're preparing for an important presentation, you can also download supporting videos to your laptop or mobile device and replay them at specific parts of the presentation — without needing an
Internet connection.
Even if your office has a high speed connection, it pays to download and have your videos ready in case something goes wrong. A video, downloaded in advance, will spare you the embarrassment of a slow connection or not having your supporting videos at all if the connection is not available when you need it.
For Your Lectures
Classrooms and teachers have embraced mobile technology. If you're a lecturer, you can add life to your presentations or change up your routine by using video in the classroom. Why not produce a live demonstration of cell replication instead of trying to explain all the complex details to your students? Whether you're teaching adults or kindergartens, your visual students will appreciate the change in routine.
If your classroom is not equipped with a reliable Internet connection, you can download the videos in advance, so you can replay them in the classroom.
Whatever your reasons for downloading videos, make sure you pay attention to copyright violations and give credit where it is due. Remember to respect IP:   http://www.stopfakes.gov/consumer-tools/ip-resources-educators-and-youth/
Paul Moss is a video producer. He frequently writes about how to get more from videos on consumer blogs.