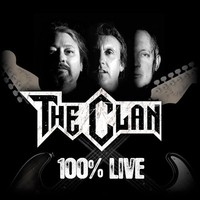 Formed in 2010, The Clan — a name given in honor of front man Craig McDonald's Celtic heritage — is a three-piece band from Wirral in the UK. Finding inspiration from the NWOBHM, some shock rock and cock rock, these blokes have been plying their hard rock craft for decades.
McDonald, who has shared stages with such legends as Iron Maiden, is first & foremost about putting on a killer live show. His hard rock philosophy is that: "It's not brain surgery…if we have fun and they have fun, everyone goes home happy."
Drawing on their live-show-oriented ethos, The Clan has released the album 100% Live…
"Rock For You"
http://www.youtube.com/watch?v=f2tawfxj17g
The track "Night Ride" takes flight quickly, courtesy of boisterous guitar with the occasional piercing artificial harmonic. Starting at 1:48 the guitar has moments of the downright demonic. Some of the axe-work towards the end kinda reminds me of Mick Mars from Mötley Crüe.
Some fine crunchy bar chord action is found on the track "Waxworks." Is that title in honor of the creepy cult flick? Either way, 2:15 sees the blastoff of a mean biker bar solo.
"Home of the Devil" starts with this bass line that coils around like an angry snake. Mention of "infernal heat" adds to a hellish atmosphere.
"Day to Day" has this hauntingly beautiful intro riff. Methinks a lot of bands would like to steal this one! Lyrically, there's something of a carpe diem mentality: "No one knows what's comin' their way / That's why I live from day to day."
"Give It All Up" has a different kind of style. At the beginning, it almost seems "funky" — an adjective I did not think I was gonna use with this band. Soon enough, though, The Clan's metal streak reasserts itself.
"Rock & Roll" may not be the most original title, but it darn well has a catchy beginning. There's this twisting guitar riff that brings back the 80s as vividly as any old Polaroid could ever do.
The 80s may technically be gone. But the party's still on at: http://www.clan-rock.com
Ray Cavanaugh – owleyesgatsby@yahoo.com