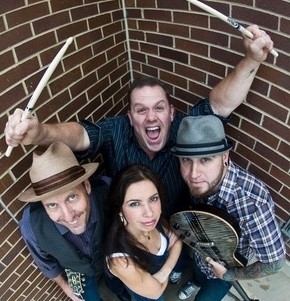 It's easier than ever to create your own music and distribute it to your fans. On the other hand, you first have to make people aware of your band's existence. This can be challenging, but if you are creative about it you can accomplish this without a large budget. Here are six tips on how to promote your band.
1. Make Sure You're Ready
Before you launch a website, start social media campaigns and load your songs onto various sites online, make sure that you are prepared. You should be clear about what direction you want to take with your music. It also helps to have several polished songs available, preferably a whole album. Finally, you should have press kits ready to send to anyone who's interested. Make sure you set up your   websites with a unique and fun, but also professional look. Your fans may not be the only ones looking at these sites, potential agents or record companies might also view your site.
2. Build a Mailing List
Wherever you play, make sure you encourage people to sign up for your mailing list. This way you can send out mailings to tell people when and where you're going to play in the future. You can also keep your fans updated about new album releases or new songs.
3. Start a Crowd Funding Campaign
This works best if you already have a good social media following. Even if your band is fairly new, if you or other band members are well connected on social sites this can be an effective way to raise money for an album or tour. When you create your crowd funding campaign, make sure you have some great music that people can access when they click on your campaign.
4. Get Promotional Materials
All successful bands have lots of promotional materials, bumper stickers and t-shirts for sale. You should get these items as soon as possible. If you don't have a large budget for promotional materials you start small with stickers or custom buttons with you bands name and picture from www.custombuttonco.com. You can sell or give items away when you play and you can offer them for sale on your website.
5. Use Social Media Effectively
To promote your band, it's not enough to just have a Facebook page and Twitter account. You also have to maintain a consistent presence on these pages and monitor them regularly. Make sure you keep people updated on your latest activities and always acknowledge comments and questions. Remember, these are social sites so you have to create a real connection with your fans and followers. Start a conversation with fans and let them feel involved. Always treat your fans like friends, if they feel a connection with you they will be more likely to continue to follow you in the future. Without fans, you won't ever grow in your music career.
6. Seize Every Opportunity to Play
Getting gigs can be difficult when you're just starting out. However, you may be overlooking opportunities. Most areas have open mics and these are worth signing up for so people can hear you play. If you know other musicians who get regular gigs, offer to open for them. Another way to gain exposure is to offer to play for free at parties and local benefit concerts. Don't expect to get paid right away. The first step is just getting exposure and making sure people know you exist. When the time comes, you may start getting offers for paid gigs, but until then any gig works.
Promoting a band takes quite a bit of effort and creativity. For many musicians, this is harder than writing and playing music. However, it's an essential part of finding success. Nowadays, it's essential for bands to learn the basics of self promotion so make sure you look into all the possibilities.