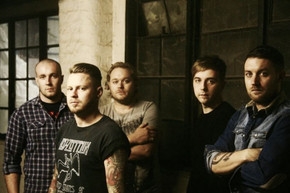 Peterborough based UK rock quintet Phoenix Calling are building up a steady ground swell with their debut single 'Bring The Roof Down' boasting some pretty impressive collaborative credentials for newcomers, as it features backing vocals from none other than Deaf Havana's James Veck-Gilodi.
Watch and share the video here: http://www.youtube.com/watch?v=ugW0taTkfTg
Originally released earlier this year, the band are now re-releasing the video for the single ahead of the release of their debut EP 'Waves' early next year.
Phoenix Calling also pleased to announced they will be releasing a brand new video for their next single 'Everybody Knows' over the coming weeks, again taken from their forthcoming debut 'Waves' EP set for release on Monday 20th January, recorded at Regal House Studios late last year.