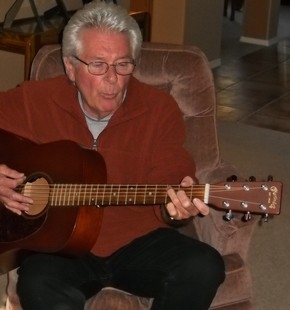 Terry has this infectious smile and love for life that pulls you into his storytelling.   We met at his home in Prescott, AZ where he continues to write and produce music.   His guitar was calling out and he shared some of his music from a new little book he wrote "Gifts" that consists of lyrics and a CD of spiritual music.   His voice was smooth and soft and he had a sparkle in his eyes that carried through each melody.
Terry has had many years of success as a guitarist, singer, published songwriter, producer and now has written a book of his stories "You had to be there! And I was" as well as "Gifts".   He was the lead guitarist for the legendary band "The Grass Roots" and received a gold record for his work on their biggest hit, "Temptation Eyes".   His songwriting contributions have benefited a number of famous artists such as Three Dog Night, Tom Jones and others. He has also worked and performed with many artists including Michael McDonald, Delaney & Bonnie, Smokey Robinson and list just goes on. He also has his own album "Blue Rose" that is considered a classic!
You can find Terry performing around the Prescott area.   This is one very busy man who gives guitar lessons, writes, sings in church and is now planning a "Grass Roots Band Mate Reunion 2013". As a Guitarist, Singer, Songwriter, Producer and Teacher, I don't see Terry slowing down anytime soon.
When did you realize that you wanted to play guitar and sing?
I first realized I wanted to play guitar when I was thirteen or so.   My mother took me to Wallick's Music City and bought me a cheap acoustic guitar and I started learning some chords.   I quickly lost interest in it, as kids will do, and it wound up in the closet until I sold it.   The next time I really got interested in it I was about 18 and I heard BB King on the radio and from then on I was hooked.   I have never put it down!!
"I Talk To God About It" MP3:
http://k007.kiwi6.com/hotlink/kyxk50kx9p/talktogod1.mp3
Who were your early musical influences?
I can't remember a time when I wasn't singing along either with my Mom or the radio.   I loved 50's Rock and Roll and I loved the Blues which included Little Richard, Fats Domino, Chuck Berry, Elvis and The Everly Brothers, just to name a few and they of course led to The Beatles, The Stones and the whole 60's thing including Motown and the blues players; The Kings, Albert, Freddie and BB.
Temptation Eyes "The Grass Roots":
http://youtu.be/29gt1fD4abc
Tell me a little about your music history, performing, producing and writing music.
I recorded my first record with my group, The Furlongs, which included my brother Kevin (drums), my cousin Patrick (lead guitar) and our friend Jeff Hittelman (bass).   We recorded our first single in 1964, our own songs.   I went on to write songs for Three Dog Night, Tom Jones, John Hammond Jr. and Larry Carlton to name a few.   I was in "The Grass Roots" and "Redbone" and my own group "Blue Rose", which I produced for Columbia Records.   I still write and produce my own music.
What projects do you have in the works?
I am in the process of forming a Grass Roots Tribute Band.   We hope to have it prepared in time for shows in the New Year and I have a new book in the works entitled "It just so Happened" which has more stories like my other book, "You Had to be There".
What inspired you to write "You Had to be There"?
The book came about from telling stories from the bandstand and getting requests for more of them.   As I began writing them down I saw the potential for a fun book and it turned out to be just that.
Tell me about your latest book "Gifts".
"Gifts" is a spiritual book of lyrics and music with a CD from the recording sessions that came from the songs.   It was designed to be read while listening to the recordings.   I also perform a number of these songs at churches around Arizona.
http://www.terryfurlong.com – terryfurlong@msn.com
Diana Olson – diolson05@yahoo.com