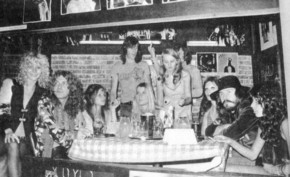 In the 60's and 70's the place to be for music was Hollywood, California. The Whiskey, The Rainbow and The Roxy were within close proximity and many famous bands got their start in one of these iconic places.   I never actually met anyone who grew up in Beverly Hills and frequented all the great clubs of the time until I met Morgana Welch.   In "Hollywood Diaries" she details what it was like growing up around all that talent and elaborates about the music and people she felt so lucky to know as well as the darker side she encountered.   Morganas accounts are thoughtful, truthful and interesting.
After many years, Morgana moved to Prescott, AZ.   It is a place that seems to be on top of the world. The air is thin but extremely fresh.   She has made it her home and helped raise her grandchildren there.   She wrote and published a second book "Reach Your Goals and Rock Your World" which she says is a meditation on reaching your goals. She uses the book to teach meditation classes.   She has also written and published a Vegetarian Cookbook and is working on another book about Hollywood's Rock and Roll.   There is a peace and grace to Morgana that carries over into her writing.
What was it like growing up in Beverly Hills?
Growing up in Beverly Hills was a mixed bag.   In elementary school I really didn't think much of the city's status.   It really was like living in a small town.   It was very safe and easy to get around as a kid.   It wasn't until I hit high school that I began to notice big class distinctions.   I lived in the south part of Beverly Hills, and there is a big difference between the north and south parts of town.   The railroad tracks on Santa Monica Bl. divided the city.   It was hard to have friends who had unlimited credit cards, high end cars, weekly beauty salon visits…etc. I felt like I couldn't participate in what they were doing much of the time.   It was not good for my self esteem to compare what I had to what they had.   As a young teen it was hard to get past those differences.   I think that is why I gravitated toward Hollywood, it was more accepting…and fun.   Now, I am grateful to have lived there and have kept in contact with many classmates.   So many things in life are much different when you look back.
Tell me a little about the music scene you were involved in and some of the people you met along the way.   Who influenced and inspired you?
It was the Beatles who caught my attention when they played on the Ed Sullivan Show in the early 60s.   I saw and heard them and said to myself 'I want that!', I think I was about 8.   I always loved music as a kid and grew up in a time when the music was the best.   When I was older in the late 60s, I was living just a few blocks from the Sunset Strip, I saw what was happening there and wanted to be a part of that.   The hippie and music culture were exactly what I was attracted to and there was a huge culture of that going on in Hollywood at that time.   The fashion and music of the 60s was a big inspiration.   But I was too young to check it out until 1970.   The next year I became a regular, often ditching school and making up excuses why I couldn't make it home at night.
I was lucky to have met many of the bands of the 60s and 70s –   Led Zeppelin,   Spirit, Johnny Winter, Edgar Winter,   T-Rex, The Pretty Things, Roy Harper,   Ten Years After, Robin Trower, Sly and the Family Stone, and so many more, and many more I can't remember.   It was not hard to meet people in bands back then, you just mingled at the Whisky A Go Go or the Rainbow Bar and Grill, or the Hyatt House and you could pretty much meet any one you wanted.     There was never any security.   Maybe a bad ass road manager, but they were pretty easy to get past.   Being under age it was easy to sit in the Hyatt House hotel coffee shop and meet the bands as they came down for a meal.   I always got into the Whisky underage, so that was never a problem either.   Every night I went out to the Whisky and the Rainbow, after it opened, those were the places the bands went too.   There we would mingle at tables or dance to the best bands.   I saw Little Richard, BB King, Freddy King, Buddy Miles, Edgar Winter, Al Kooper, ZZ Top, Tower of Power, John Mayhall, Foghat, Rory Gallagher, Roxy Music, The New York Dolls…and on and on…all of the great bands played in the very small club.   Me and my friends would usually party with the bands after the show and go to the Rainbow or back to the Hyatt.   Those times were so carefree, open, and more innocent.   Things began to change in the 80s and I drifted away from the scene.   I am so glad I was a part of those times.   It's not like that any more in any sense.
 
When did you start writing and elaborate on your published books and what your working on now.
I've spent a lot of my adult life writing, but mostly for others in the decades I was a secretary.   I did things like writing sales literature, sales presentations, and endless letters and reports for my bosses over the decades, which I was very good at.   In the early 90s I joined a meditation school and after taking the master courses and writing many big essays, I felt much better about my writing skills.   I began working for the school and started writing astrology articles for our quarterly magazine, and created a couple classes that I taught at the school.   That is where I developed better writing skills.   When my mother was diagnosed with ovarian cancer I left my job and life and took care of her for 2 years.   That is when I decided to finally write Hollywood Diaries since I had some free time and to take my mind off what was going on.   I began posting chapters on-line every two weeks and soon built up a following.   I decided to self publish the book version of Hollywood Diaries since the interest on the internet was really good.   Since then I have written two other books, Reach Your Goals and Rock Your World which is a meditation on reaching your goals.   It is a companion to the classes I teach.   Then I wrote a vegetarian cookbook, Morgana's Kitchen — Hearty Vegetarian Dishes.   I started to put together recipes for my grandkids to teach them how to cook.   I kept going with it and put all my favorite hearty recipes together and decided to publish that as well.   Now, I am working on a new book about my favorite genre, Hollywood and rock and roll.   This time it's fiction, yet based on many real stories, with a bit of Hollywood's occult past.   I hope to have that finished in a few months.   I'm also teaching meditation classes in my home and on the internet.
**In the attached photo, Morgana is in the center of the picture, Robert Plant on the left and John Bonham on the right from Led Zepplin**
Contact info:
http://www.facebook.com/morganaw
http://www.morganawelch.net/
http://www.hollywooddiaries.com/
Diana Olson – diolson05@yahoo.com