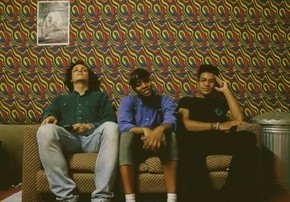 Birmingham psych-punk trio Youth Man are today pleased to unleash their debut EP 'Bad Weather' for free download along with a video for single 'Heavy Rain'. The band recorded the EP in July 2013 at the Motor Museum in Liverpool with Al Groves (Elvis Costello, The Coral) on production duties.
Stream, download and share the full EP here:
http://youthman.bandcamp.com/
Watch the video for 'Heavy Rain' here: http://www.youtube.com/watch?v=PbGyEl9vkss
Formed in January 2012, the high school best friends were all musicians but had never played in a band together; bored of seeing the same predictable shit bands at bars they decided to start jamming together. Rehearsing in bass player Adam's kitchen on tiny pieces of cobbled together practice equipment led to tentative live performances and at their third show, front woman Kaila Whyte set the bar for their now standard chaotic live shows when she jumped headfirst into Adam's bass and managed to sustain a gushing head wound.