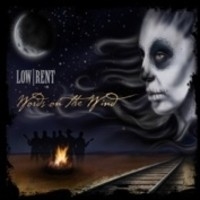 Brace yourself for Low Rent as you find yourself getting blown away by 'Words On The Wind'.   Melbourne, Australia's own Low Rent has spoken and 'Words On The Wind' is the talk of the town!   The group is led by singer/songwriter/guitarist Dan Swan along with his father Mike Swan on Lap Steel/guitars/mandolin and his brother Tim Swan on bass.   Three rock-solid additions to the band include: Mike Landells on lead guitar, Regan Wood on drums & percussion and Cynthia Gallie on supporting vocals.   Together, Low Rent and their sound is as graceful as a swan.
Originally formed in 2007 as strictly a family unit, Low Rent has evolved into a fine-tuned, musical ship.   Aboard the S.S. Low Rent, one will find Captain Swan and his trusty crew hitting all the right notes, saying just the right things and playing just as they were intended to.   Following up their 2008 EP 'Waiting to Fall' with their first ever, full-length record titled 'Words On The Wind' released on May, 25, 2013, Low Rent is sure to pay in full by providing high-quality material for their devoted listeners.
Low Rent – "This Ones For You"
http://www.youtube.com/watch?v=ftVpNkoh89k
Dubbed as an alt-country act, the audience will definitely pick up on elements of a solid country foundation surrounded by layers of: rock, folk, pop and blues.   Low Rent blends all of this together wonderfully, which comes across to us as a bottle of fine wine.   Just the right taste and the perfect texture & balance is what Low Rent has in their hands with 'Words On The Wind'.   I'd like to refer to this work as starry-eyed blues because the songs capture that element of sadness in such a way that will get you to gaze out into the open plains & sky with an open mind.   The lyrics really stand out here throughout the 9-song set where the words will cut right through you hitting you with a whirlwind of heartfelt language.   Right from the beginning on the opening number "Even My Shadow Looks Bad", one will hear the line "When memories are slowly driving you mad", where right away you're sensing some sort of pain or hurt.   Low Rent is able to convey these feelings & emotions by way of delicate melodies and peaceful harmonies.   As you continue on, the songs continue to feed off of human emotion by lyrics such as "broken pieces in the sand" on track 2, "All This and Things Believed" or by saying that "when you breathe it in, it throws you out" on the song "Broken Mandolin".   Low Rent needs some help to "shake these demons" on "This One's For You" and then get lost in the calmness of the ocean on "This Tide".   The album ends with a bang on "Somehow You Still See The Light" where Swan & company are giving you all they have while also assuring the listening audience that in the end everything will work itself out no matter what.
I'd also like to add that the vocal dynamics between Dan Swan and Cynthia Gallie are quite special and really something to hear.   Intertwining their voices seems to go together like say a Stevie Nicks and Lindsey Buckingham where actually I did pick up on a little inner Buckingham coming out of Dan at times.   The overall musicianship and instrumentation from each member in the band is just top-notch where I was particularly impressed with the impressive guitar playing.   When you got it you got it and Low Rent has definitely got it…IN FULL!   'Words On The Wind' is an emotional rollercoaster that will take you on a ride through the thoughts and feelings of Dan Swan and his bandmates.
The future looks quite promising for Low Rent as a new album is in the works and they have been hard at work playing shows around the Melbourne area spreading the 'Words On The Wind'.   Be sure to check out their website and join their mailing list for all of the latest updates.   And don't forget to SKOPE out the video for "This One's For You" live at the Thornbury Theatre for the 'Words On The Wind' album launch party!   Also, make it a point to buy the brand new Low Rent album on iTunes because this is one that you will definitely want to have in your music library.
https://itunes.apple.com/au/album/words-on-the-wind/id648666025
http://www.lowrentband.com.au/Low_Rent___Melbourne_Australia___Official_Website/Home.html
By Jimmy Rae + (jrae2@att.net)
5/5 Skopes