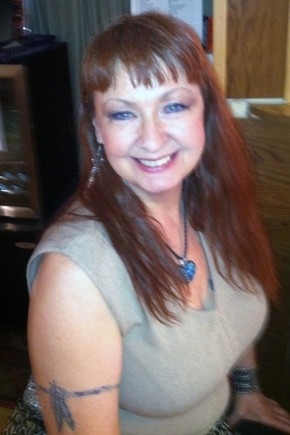 In the high country of Arizona, nestled in the foothills just below Mingus mountain is the small town of Cottonwood.   I have heard it is a place for healing, creatively and filled with artists, musicians and poets.   It is there you will find Annie Holbrook.   A poet turning lyricist.
 
Annie is from Canton Ohio where she spent her childhood.   The oldest of two girls, she sang in the girls glee club, ensemble and Chorale in Junior High.   She was 16 when she started writing poetry.   It was something that just came to her and once she had the words, it just flowed until the poem was finished.   She calls herself the "Word Lady" and is learning how to use her poems to create lyrics for music.   She isn't singing at the time, just putting together her book of 35 poems and working hard writing songs.   She is working with ParamountSong.com who took her lyrics and put it to music to create "Sisters".   The song was originally a poem used as a eulogy at her only sister's funeral.   She put the poem in her casket but later thought, "what can I do to honor my sister who I loved so much?"   So, she rewrote the poem as lyrics and sent them to ParamountSong.com.   The finished product is beautiful, emotionally stirring (three of we women cried when we played it) and Annie believes with the right singer, it could be a big hit.   Her sister died of cancer at 47 and so she believes that this song is for anyone who has lost someone to cancer.
 
Her other song, "When This Life" depicts her own struggles going through a divorce and the hopelessness she felt.   She returned to her Baptist roots and spiritual strength and found faith in her future.   She traveled for a time and ended up back in Arizona, she had lived in the high country before, and has found her town of Cottonwood a peaceful and inspirational place for her to develop her writing and hopes to publish a book of her poetry soon.   In 2013 she entered "Sisters" in Songoftheyear.com and was awarded "Runner Up".  
"Sisters" MP3:
http://k007.kiwi6.com/hotlink/soqgyvl71m/01_Sisters.mp3
 
Annie has a sweet, shy disposition but a fire has been lit inside her and there is an exciting unstoppable talent shining brightly through her big smile.  
Contact Annie @ shinedownginger2012@gmail.com
 
https://www.facebook.com/annie.holbrook.37
By: Diana Olson – diolson05@yahoo.com