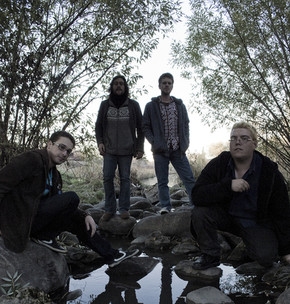 Electric Soul… how do I describe it? Take the last 40 years of rock-n-roll, put it in a blender, add some psychedelia and hit the time warp machine to the early 70's, when rock was arguably in it's heyday. As a listener and musician myself, I can hear so many influences that I couldn't count them all using all my digits for just a single song. Times that by 11 tracks of soulful funk fueled psychedelic and you have Electric Soul's debut album Second Paradise. Maybe they can explain it more fluently…
Skope: I almost want to classify your music as 'classic rock' but actually it's more of the sound itself that captures the era of our notion of classic rock as opposed to the song structures. Can you help decipher what Electric Soul is all about?
Electric Soul: Electric Soul is about a fusion of different influences mingling together. We all come from different backgrounds and when we get together we like to take it one song at a time and not get stuck in a genre. Why stick to just one flavour? There is a rock base to the music but we mix in Jazz, Funk, Psyche, Pop and some Progressive styles. Bands shouldnt't be afraid to take risks with their music and we always want to push ourselves while keeping it groovy.
Skope: You guys are from Winnipeg, Canada. How does your environment affect your songwriting?
Electric Soul: I would say we write more in the winter mainly because the -40 weather is very annoying to haul your gear around for a show. So we retreat to our jam space and work out some new material. We do play shows in the winter but only 1 every few weeks. It was kinda funny though, we recorded Second Paradise in January and February and one review said the music sounded like it was recorded in the dead of winter which I thought was funny……so maybe there is the influence of winter that I didn't notice.
Skope: Who makes up Electric Soul and what do they do?
Electric Soul: There are four of us in the band. I play guitar and sings, Dave Guenette on Keys, vocals and percussion, Joey Decosse on drums and Chris Tuschcherer on Bass. Also, there was some guest appearances on the album from Phil Collins(not the drummer of Genesis) who played trumpet and some friends doing some back up vocals for us.
Skope: Second Paradise has a very 'live' feel to it. Are you guys more of a live or studio band?
Electric Soul: I would say we are a live band. We love playing shows and spreading the music in such a way that can work people up and make them go crazy. It's just such a primitive thing to go to a show, we have had some wild dancers. But I really do like the studio. It makes you tighter as a band and works you in. We came out of the studio a new band. Just took our live sound to a whole new level and I cannot wait for the next album. The studio makes you see all of the things you have been doing wrong and kind of forces you to correct the mistakes.
Skope: As far as artists for comparison, I heard a little Black Sabbath and Pink Floyd. Who are some of your influences and who does the writing in your band?
Electric Soul:It's funny you say that because we are doing a Halloween show and the organizers of the show asked us to do some covers and they chose Sabbath and Floyd. We also do a Pink Floyd cover in our sets already anyway so it seemed right. As for the influences it is all over the place and changes alot because we are constantly discovering new music thanks to the internet. Dave and I do almost all of the writing then we take it to the band and we arrange it and work out the bugs together.
Skope: Do you consider yourselves to be categorized as psychedelic? Do you listen to any modern artists in that genre?
Electric Soul: I don't really mind being categorized as Psyche. People will always do that and its fine and we have heard alot of different styles that people say we are and yes I love modern Psyche music. Check out Sleepy Sun, Black Mountain, Unknown Mortal Orchestra, Wolf People and Tame Impala! Great bands!
Skope: Are you guys touring to promote Second Paradise? Are you doing anything unusual to promote the album?
Electric Soul: We are doing a small tour in November across the prairies. Then in the Spring we are going to be doing more of Western Canada and hopefully play some of the many festivals around Manitoba. We are also working on a video fo one of the songs off the album and we will be setting up a Video Release party/tour kick off for the early Spring.
Skope: You began in 2011, did you start out with an idea or certain type of sound you wanted and how has it evolved since it began?
Electric Soul: Dave and I had some old songs that we started with and we re-worked them. The sound was kind of always there we are just getting comfortable with it and are now really starting to find what Electric Soul really is. We are always evolving and I am sure that the next album will expand on our sound but not copy Second Paradise. I can say that one thing we have been working on is crafting better vocal harmonies and melodies which I am really excited for.
Skope: Where can people find your music and more about Electric Soul?
Electric Soul: Facebook is a great tool for that so if you want to find us we are on there and we are always keeping it updated. Bandcamp has the whole album you can stream or download for very little money. We love to interact with our fans so please feel free to leave a comment and share with your friends.
For some truly funky mind expanding audio experience, check out Electric Soul and pick up their debut album at www.facebook.com/electricsoulwpg or http://electricsoulmusic.bandcamp.com.
Douglas Garnett – douglas.garnett@gmail.com – http://digdugdisaster.com