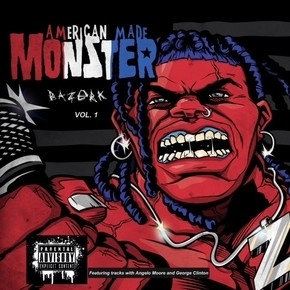 Bazerk is an L.A. rock band led by the charismatic antics of ZU [OnPlanetZu], the unstoppable force of nature that defies you not to get sucked into this powerhouse wall of sound. With a new album coming out "American Made Monster" featuring guests George Clinton and Angelo Moore from Fishbone. The album comes out 1/4/14 and the CD release party December 10th at Boardner's in Hollywood. Just exactly what is Bazerk? That's what we're here to find out…
Skope: So please tell our readers just what is Bazerk and where did the name come from? Does it have a "Clerks" reference by any chance?
Bazerk: BAZERK is the edge of panic and craziness before you go off.   When you had it up to here and you've just had enough, you go BAZERK. No reference to Clerks.   It is a description of our sound and the energy we put into it.
Skope: So how do you describe the band's sound to the uninitiated?
Bazerk: I would describe our sound as rock metal punk reggae all mixed together. Like taking public enemy, mixing it with ratm, and then you get a sound like BAZERK.   In other words taking DNA samples of many genres and putting it into a new blend.   We didn't want to lose the sound of how music was in the 90's. we feel that was some of the best music.
Skope: You recently signed with Stepping Out Records, how did that come about?
Bazerk: Signing with Stepping Out Records came from us holding out so many years, dealing with ineffective labels, giving up, and then we ran into Steve from Stepping Out records who gave us a contract like the old school labels did.   He   makes   it about the artist, giving the artist what they are worth and the label markets and promotes the band like they all used to do.   It is one of the only labels in LA that still does that and we are happy to be signed with them.
"Hello America":
http://www.youtube.com/v/4EpPdGLY3wM
Skope: You have a new album coming out, American Made Monster. What's the story behind it?
Bazerk: American Made Monster will be our first album in the last couple years.   the story behind American Made Monster is each one of our experiences in life, good or bad, helped create the monster which you hear in our music.   Fueled by the anger and rage of getting turned down over and over, not having the chance to express ourselves in corporate media and mainstream marketing, due to the fact that they couldn't label Our sound.   So we are out to prove a point, that this is good music which has been overshadowed by mainstream market and that our fans can still enjoy a sound that is creative and genuine and not like everything else out there.   Also that we are making our dream and what we believe come true, with or without the music industry.
Skope: Who makes up Bazerk and what do they do?
Bazerk: BAZERK is Dave Looney Tunes on guitar, from Texas. Fred Funk on drums, fresh from Germany.   Randy Wilde aka AMP WILD on bass, from Los Angeles. DJ Swift from Luis Vuitton and France.   Zu the Greatone on vocals from Jamaica.
Zu, the mastermind of BAZERK, had a vision to search out the best musicians capable of performing this style blending, and innovative approach to music.   So each members background is from rock, metal, reggae, punk, and hip hop, which makes up BAZERK as we have it today.
Skope: How does the band contrast from your other project On Planet Zu?
Bazerk: The contrast between onplanetzu and BAZERK is quite great because we have more of a hardcore, heavy metal vibe versus a dance vibe. The lyrics and the personality put into them is very different too based on the attitude in the sound and style. OPZ is primarily Zu working with a producer, but BAZERK is five of us all putting in our influence and ideas for the mix. BAZERK has been around many years, developing its sound from a rock base.   OnPlanetZu is basically Zu's alter ego put to dubstep.
"OUTTA CONTROL"
http://www.youtube.com/watch?v=mSdNEiIIS2k
Skope: What are your live shows like?
Bazerk: Live BAZERK shows are like a high energy three Ringling BrothersnCircus! You don't know what is going to happen or what you're going to miss if you blink! We bring it all with us, props and energy.   It's an intense experience like a heavy weight fight round where The audience is part of the show. You don't just come and watch us play, you are part of the show as well. Go ask my mama!
Skope: Will there be a tour involved to promote American Made Monster?
Bazerk: There will be a tour for American Made Monster.   The location of the tour will depend on fan response to the album and our to upcoming releases including our new single and video to "I'm So Ill."   We just got a booking agency to help us make thing happen.
Skope: Where can readers find out more about Bazerk?
Bazerk: We just launched our great new website at www.yobazerk.com.   It has all things BAZERK.   You can also check us out at www.reverbnation.com/bazerk7 or at Facebook.com/yobazerk and twitter @Bazerk. We will soon be adding a store where you can buy BAZERK gear and music.   You can join our email list through our website or reverbnation to keep up to date on shows and releases.
Skope: You guys have played with so many great bands in the past, are you ready to start headlining?
Bazerk: Headling is definitely our goal.   we want to be on the bill with other great bands out there, though, so we are willing to play shows, headlining or not.   Warp Tour, Lollapalooza, Rock Nation, Red Bull, we will take 'me all! Yo mama's house, yo son's birthday party, backyard BBQ, your daughter's high school graduation.   Yep, we will be there.
Check out Bazerk online to discover what this band is all about at http://www.yobazerk.com and be sure to pick up American Made Monster upon release.
Douglas Garnett – douglas.garnett@gmail.com – http://digdugdisaster.com