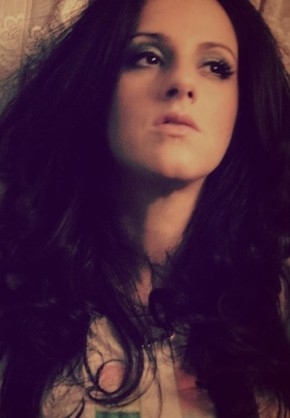 Hello good people, I took a week off for some R&R but now I am back at it. So I am reading through Showbiz411.com that Lady Gaga is going through some tough times and splitting with her manager amongst her odd performance at the Youtube Music Awards. I must say from someone who gets up at 5 am and takes the bus into the city for work it is hard for me to understand why fortune and fame makes these folks crazy?! On another note new rules introduced November 1, 2013 will see recorded performers and musicians benefit from an extended length of copyright term for sound recordings and performers' rights in sound recordings, increasing from 50 to 70 years. This ruling should be applauded! Now lets get to the good stuff and that is that I have Stacie Rose on the column today. I have been watching Stacie's career since "Consider Me" and she just keeps getting better. Stacie recently released 'Stars, Stripes, and Milestones' with funding from her fans and became a mother. I could gush over Stacie and her music all day but why not just join me as Stacie talks about how motherhood effects her musically, her record release party November 27th in NYC, having her loyal fan base fund the album, and much more!
Stoli: Where are we talking from today and does the weather turning colder get you excited for fall or yearning for summer again?
Hi Stoli! Talking from NYC now..Later I will be tucked away in suburbia just outside the city.   Re: the Fall..I'm typically a fair weather gal and have always dreaded the cold. The coming of winter used to really get me anxious. I even wrote a sad, sad, song about that called December (on Shotgun Daisy) Then later I wrote a song called Sunny (on Alter Ego's) which has less to do with the weather outside and more to do about the climate inside, emotionally speaking) On this one album there is less talk of weather as I am in a better headspace and more welcoming of the seasons. Although I always end up longing for summer weather…
 
Stoli: You have been in music for years and you just keep getting better. What is it about you & your personality that keeps you driven to pursue your passion for music?  
Well…Thank you! You are too kind…hmmmm..I'm an Aries for one thing. And this is really who I am. I write songs, sing songs, and collect songs. I live, love and breath music. This is the most soulful, truthful way of expressing what transpires in my heart. I guess I am destined for this.. What drives me seems to be some invisible force..Some need to create, emote, and share.   I realized a great while back that this is something I could not stop even if I wanted to. I guess the drive comes from some deep, magnetic connection to the universe through music and the release I feel while making it. (I am not high right now —btw!)…
Stoli: You recently became a mother to a beautiful little boy. What has that done to you personally and as a musician?  
Oh my.. It has deepened my well, sharpened my intuition, opened my mind, and filled what seemed to be a permanent void.   I've learned patience. It's validated the concept of persistence. Not to sound wacky. But it fortified belief in God and angels. It pretty much brought me back into the light. Shall I continue? This has been a powerful time for me. I won't say every day is easy, (anyone with a toddler can attest) but every day there is joy, and contentment.   I am more responsible and aware, less judgmental. Fiercely protective, very humbled and extremely grateful.   Being a mother has reminded me of my own free spirit and helped me get back in touch with my mojo. I feel a great sense of peace in my core. Centered even when things are crazy.. It's like the gravitational pull I have always needed. I think I used to fly out of control. Work to hard, push myself to much, walk the wire, get to close to fire, drive to fast, I couldn't find the off switch or the "no" button. I know better know.,..and I don't need to run all the time and wind myself up. I know where my home is, and honestly feel love 24/7!! It's magic!. And mayhem.. (A healthy combo)
Stoli: Your fan base is so loyal that you completed a Pledgemusic.com campaign to fund 'Stars, Stripes and Milestones.' What did that tell you about your fan base and do you not agree that sites like Pledgemusic.com are the future?
I so appreciate the love and support from my family, friends and fans. It makes the whole process of making music a lot less isolating. There's no better feeling than knowing people are out the rooting for you, or getting a note saying how your songs have moved someone (even to tears), Or that your CD is on constant replay, or songs is stuck in someone's head. And when you play to a crowd and see someone mouthing the words or watching with intensity.. It's like a warm rush all over and makes the exchange of music and the sharing of the experience so worthwhile. It's like we're all comically connected through music somehow.
Stoli: How long were you working on 'Stars, Stripes and Milestones' and where did you write & record the music?  
I started recording In February of last year and released it in July — So really it was recorded over 4 months…Took me about a month to get the artwork ready Cd's pressed, stuff released digitally etc..The majority of the recordings took place in one long weekend at Jack's Fried Chicken shack( AKA: A house in the Poconos that was converted into a recording studio) the songs we all written while I was pregnant with my son and during my first year as a mother. I was really inspired during time my life and writing constantly. I was feeling differently, dreaming differently, and experiencing the world differently. And now it's different again..I probably should start another wave of writing…I'm just waiting for that surge..
Stoli: The songwriting on this album is so personal and real. How much of your real life goes into the music and can you site an example?
Well I pretty much wrote what I was experiencing and feeling and thinking during a certain time. It's like a series of snapshots. It's all there. The colors, the characters, the stories, the past, the present, the pain the pleasure and full range of emotions.   I tried not to edit myself, or worry about what anyone would think.   I don't write with an end in mind or a great goal. I write what's in my heart in that moment and see where it all takes me later. After I have written a body of work, the dots seem to always connect somehow…You can only write certain songs during certain times because you are in a specific place in your life. So therefore there is always a connection, even If you don't know what it is until you put it all together. Speak your mind is about how none of us know how much time we have and so many things in the world are beyond our control. If we are able to speak freely and cross emotional boundaries, transferring the love we feel for others, letting it be known and experienced, we will not live or die with regret.
For Lucky I had been focusing on the things I did not have and suddenly realized that it's a choice to be thankful for the gifts we DO have, large and small. Once we turn the tide of our own luck, frame the fortune we have and cherish it, life looks a lot different. I have experienced some excruciatingly painful times, and swallowed some beyond-bitter pills but even so.. I have never felt so Lucky!
Walk in the Park Is extremely intimate and personal. I wrote it in the man cave (AKA: TV room) in our house where my son was sleeping, the crickets were partying loudly outside an open window and THE HEIRESS was playing in black and white on the tube. I plucked at my acoustic guitar as the crickets kept on, and watched the movie with no sound as I was writing as If I were scoring the moment with my song which is really about how Love comes in many forms at different times, for different reasons and it ain't always perfect but when it's real and it gets under your skin into your blood and soaks into your heart —that's what it's about.
Stoli: I am always impressed by your vocal range and ability. How do you keep your voice on point and sounding like you need day to day?
Thank you!! I sing a lot, I stay healthy and I take care.   I also try to be true to my own vocal style and sing it the way I feel it in that moment. So, hopefully it always sounds honest and true. I'm not very self-conscious when I sing.   I try to let it flow. I can be hard on myself when recording if I can't quite nail what I am going for in that particular instance. But when I am just singing, I am in my element. Especially when strumming my guitar and working on a new song that's coming together.
Stoli: Does your son like music and do you ever play your music for him?
But of course. We do music class together. I sing to him almost every night. Some of his favorites are…Blackbird, Hello, Goodbye, Moonshadow, Goodbye Yellow Brick Road, Close to you, You belong to me, I wish you love, That's Amore, a song I wrote for him, The Abc's, Itsy Bitsy Spider, "Yes! We Have No Bananas, Hush little baby, Baby mine, Yellow Submarine, The wheels on the bus, If you're happy and your know it and his fave..Twinkle twinkle little star. He loves to sing and often sings the melody to songs but inserts the word choo-choo over and over since he's obsessed with trains! So abc's sound like….a,b,c, d, e, f, g, choo-choo, choo-choo l.m.n.o.p..Music is big in our house!
Stoli: If you were to do a music video for 1 single from the album what would that be and what would be the vision?
I have wanted to do a music video for Lucky although I keep visualizing one for Walk in the Park — There's a forest and a lake and a lot of moonlight and a good part of the video is at night and I am mostly in white and barefoot and crunching leaves with my feet and running though this thick forest.   I am swimming in the moonlight and singing and walking and singing and there are huge trees and leaves all around…It's like a dream sequence…maybe there is some leather too…maybe a bit of lightness and darkness and the park is really the forest and the walk becomes a run and the moon becomes the sun. Can you picture it?
"Lucky" – https://soundcloud.com/stacie-rose/lucky
Stoli: I really love the song, "Forever on the Mend." What does that song mean to you & when did you write that?  
Thank you! I started to write it just before we were heading to the passport office to get my son a passport so we could take him to Mexico for a friend's wedding.   Jeff Allen and I were discussing me writing a song for the album in 6/8 time. It has a waltzy vibe and tragically hopeful storyline, The words and melody kinda of flowed out in that way.. It's very personal and is about a forever between 2 people being lost and then found and then going round and round. It's about how the heart often chooses to forget difficult times as it heals and begins to rekindle the idea of forever. Forever is a work in progress — always on the mend.
Stoli: The world is in a crazy place from terror to poverty to despair. Being a mom, what are your hopes for the future of our kids and how do you stay positive?
My hope is that we make our way back to basics and continue to learn and understand what's actually important. I hope my son will find joy in all that he does, trust his instincts and respect himself and others. I hope that our children will be less judgmental and put less pressure on themselves and live with grace and positivity.   I hope our children will speak their minds, learn to advocate for themselves and focus on the world collective and not only the world within.   I hope for more kindness, compassion, and peacefulness. I personally stay positive by constantly reminding myself how very lucky I am. Sleep helps too!
Stoli: What is coming up for Stacie Rose and where you @ online?
What's coming up is a record release show in support of the new album Stars, Stripes and Milestones, Thursday November 27 (the night before Thanksgiving) 7:30m. MERCURY LOUNGE 217 E Houston St NYC.
http://www.mercuryloungenyc.com/event/402533-stacie-rose-new-york/
Thanks for taking the time to listen and hang with me Stoli!
You can find me in these lovely places…
http://www.stacierose.com
http://www.suitsongs.com
https://twitter.com/stacierose
https://itunes.apple.com/us/album/stars-stripes-and-milestones/id670151921
https://www.facebook.com/pages/Stacie-Rose/10210161471