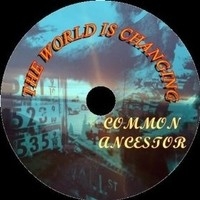 According to front man Clive Stewart, the name of the band Common Ancestor is symbolic in that "we are all descendants of the first created man and woman." Indeed, this is true; in fact, geneticists say that every living human shares one particular descendant who roamed the earth some 70,000 years ago.
As for a more recent timeframe, Common Ancestor has been a staple of the Northwest U.S. music scene for a solid two decades. Stewart — also the band's main creative influence — blends his Jamaican roots with a funk-rock sound; the result is something he calls "J'roc" (short for "Jamaican rock").
The band's latest endeavor is an album called The World is Changing.
Listening to the track "Lovin' Someone Like You," it becomes apparent that Mr. Stewart has a good husky rock voice.
"Love on the Line" merges rock and jazz into a fine song of romantic suspense.  
As for the track "Y!," I'm not fully sure what the title means, but I can say that Stewart's voice ranges higher here than I would've thought possible.
"THE WORLD IS CHANGING":
http://www.youtube.com/watch?v=cXAXIdXCvaU
"Life's Struggles" offers an engaging chorus.
"Cruel Waste of Time" offers some interesting partially-muted guitar work. For a few moments, it seems like there are some elements of the psychedelic.
"Sunshine in the Rain" is wistful without being too dejected.
"Escalady" makes a strong case for being the album's most sensual tune: "I wanna squeeze you / And scream your name." A few of the groovier instrumental moments make me think of the classic "Mustang Sally."
In the track, "Fool," the speaker talks about what a sucker he was for a particular lady. What strikes me, though, is that it doesn't seem like there's much bitterness. Almost seems like the speaker would've done the same dang thing had he known beforehand.
"You Got Me" is one lively funk affair. It's as if the Chili Peppers got together with George Clinton. Who might be their 'common ancestor'?
Visit your 'common ancestor' at:
Or:
http://www.reverbnation.com/commonancestor
Ray Cavanaugh – owleyesgatsby@yahoo.com