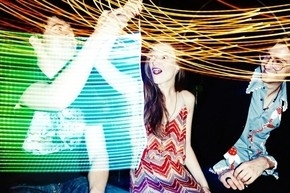 With influences ranging from Japanese horror films to Van Gogh to the artful, ambient sounds of Animal Collective and Grizzly Bear, Empty Chairs creates an ethereally impressionistic atmosphere on Caveat Emptor. Featuring colorful rhythmic samples, glistening keyboard sounds, and enveloping harmonies "interwoven in a delightfully unexpected way" (General Admission), the band strikes a unique balance between solid beats and layered sonic textures. From the dark, grandiose string quartet accompaniment on "GTMO" to the old-school videogame synth arpeggios on "Choice", the album pulses with an ebb and flow that echoes nature at peace.
http://www.youtube.com/watch?v=fSTewbI3PhA
2013 has already been a year of growth for Empty Chairs as they continue to expand their reach with new fans. Summer 2013 will bring more concert dates leading up to the release of Caveat Emptor on November 5th.