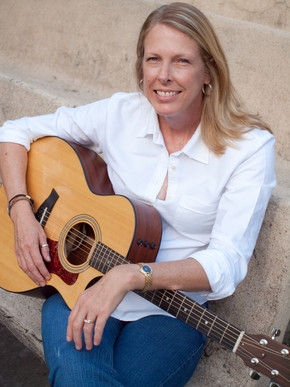 Georgia native and longtime Texas resident Elizabeth Butler is a marathoner, triathlete, mother of three, entrepreneur, and, oh yes, a musician as well.
Skope recently tracked her down to ask a few questions…
I read that you have some background with guitar. Do you compose or perform the guitar tracks?
Yes, I play most of the rhythm guitar tracks on my songs, and I write the guitar parts for my songs. Occasionally, I'll think a song will be better served by using a different guitarist, but most of the time it's me. When I'm writing a song, though, I almost always write it a cappella, and add chords later. I think you get a stronger melody this way.
How many hours do you think you've logged in playing at coffee shops and parties?
I've certainly spent a fair amount of time in coffeehouses, parties, and playing at bars, but most of my musical experience is as a church musician. I can't even begin to count how many hours I've spend at services, or at weddings, funerals, baptisms, etc. It's probably somewhere in the thousands, I think.   I really liked being out in the community, playing for family events. It was a plus that I could bring my kids to many of these events, too.
Time Before Time After:
http://youtu.be/TlcLipyD4Gw
You seem quite keen on your collaboration with Solveig Whittle. Could you tell us about this arrangement? What music has it produced?
Solveig and I are both members of the GoGirls music community, and we met online at their weekly Twitter and Facebook chats. We seemed to hit it off almost immediately, and would message each other in reply to music articles or stories. I was working on my current album project and heard one of her original songs and was blown away by the emotional depth and intimacy of her vocals, and messaged her to see if she'd be interested in adding harmony vocals to one of my songs.
I loved the way our voices blended together, and we've become good friends in the process of recording, so we've formed an informal partnership. She still performs in the Seattle area with Stevie Adamek as Solveig and Stevie. It's not very often that you get to work with someone that you mesh with both musically and personally, so I'm thrilled. "Time Before, Time After remix featuring Solveig Whittle" is the first one of my songs that she's performed on, and she'll be on several others on my upcoming CD.
Who do you consider to be your most prominent influences?
I really study the works of musicians that are both proficient in their musical instrument and are excellent lyricists. James Taylor and Dan Fogelberg come to mind first. I also love Aaron Copland. I want to be him when I grow up. I love to write songs that I can have fun with as far as arranging and orchestration.
How exactly would you define your genre?
Ooh, good question!   The tagline on my website describes my music as "a little country, a little jazz, a little blues, all mixed together to make a smooth gumbo of sound".   I think that's pretty accurate. I listen to all kinds of music, so my songs are a hybrid of several different styles. Maybe folk/pop/jazz?
How many albums have you produced since your first demo tape in 1982?
I've finished one album project with Suzanne Comeaux Bucher in 2006. We wrote and performed together as Running Home. I went back to being a solo artist after that project, and have been working on and off on this project since 2009.
I know you've had quite a few other pursuits going on..Did you ever take a significant hiatus from music?
I've taken some time off from the recording studio from time to time, mainly because I was busy with my three kids. I don't think I've ever taken time off from music and guitar. I'm not sure I really could. It's in my DNA, I think. Part of my make-up as a person. Even if I'm not physically at my guitar or desk writing, I'm always thinking of arrangements or melodies or song ideas. Music is never out of my thoughts for very long.
Anything else you care to share?
I'm so thrilled and fortunate to be working with so many talented and generous musicians on this project. Along with Solveig, there are guest appearances by Frank DeBretti, Hamilton Loomis, Max Dwyer, and Kira Small. I'm having so much fun working with everyone, and I'm excited to hear how everything turns out!
 
Listeners can keep tabs on things at: http://www.ebutlermusic.com
E. Butler Music on Twitter: www.twitter.com/EButlerMusic
E. Butler Music on Facebook: http://www.facebook.com/pages/EButlerMusic
Ray Cavanaugh – owleyesgatsby@yahoo.com