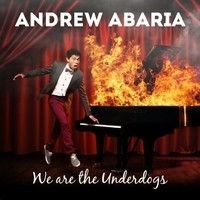 About the Artists: This is Abaria's latest release entitled "We are the Underdogs" EP released in 2013. Andrew most recently released "We Are the Underdogs," a five-song EP produced by Mario Marchetti, who is known for producing and writing for Billboard-topping artists, such as Demi Lovato and JoJo. "We Are the Underdogs" is a personal reflection on moments of struggle, heartache, and loss, and is a tribute to everyone who feels undervalued and unseen.
Review: "We are the Underdogs" is one release that certainly doesn't disappoint. This classically trained Pianist bring to the table effective songwriting via a highly emotional musical and vocal delivery. This meshed with a one in a million Big Band Pop sound makes for a very effective combination no doubt. Abaria is just a breath away from Modern Poppy Jazz or Vocal Jazz but skillfully and methodically never cross into that realm. The end result is a superlative musical statement that has hints of the above musical flavors. All songs are wonderfully simple but masterful in their overall arrangements. Music reminded me of a cross between Ray LaMontagne, Amos Lee, classic Eric Carmen and Joe Purdy and even Adele. This EP is quite entertaining overall with an amazing vocal front of Abaria who with his Piano playing skills is a musical triple threat in my mind.   He combines Top Tiered songwriting and playing, with passionate and emotional vocals. Abaria has an amazing voice and a likeable appeal (visually and vocally). Finally his emotionally gripping delivery via lyrical content is straight from the heart. All pieces offer a very strong and confident soul searcher and yearning perspective and spirit. No doubt many females will fall for Abaria. All songs do exactly what they are meant to do via well-crafted movements and top tiered musicianship. The overall production value is superb with a crystal clear sound quality.
Top Track: Kiss Me Till They Find Us.
Criticism: I'm not a big fan of the cover art concept to be honest. Ironically it lacks creativity and is a poor representation of the artist and the music. This style will keep some off balance. Case in point I think Abaria is overqualified to be a Pop artist.
Conclusion: Andrew Abaria has proven himself with this latest release. He is clearly an established, behind the scenes talent around California and all band members backing him up are clearly capable musicians. I must admit "We are the Underdogs" sucked me in like a powerful drug and refused to let go long after the EP was over. This usually indicates he is something special about the artist or band in question. Thus deserving praise, recognition and musical fame at the international level.
4.5 out of 5 stars
Drew Blackwell edited by Joshua Beach
Review comments: joshuabeach9@gmail.com