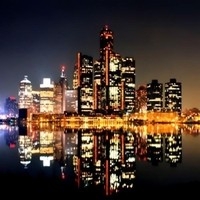 John Bell proves that keeping it simple is a winning combination on his latest single "Miles From Home".   All he needs is his trusty guitar and some laid-back lyrics that tell a story of the lonely soul.   Bell captures the true essence of the song through some catchy chords and words that can relate to so many people out there.
"Miles From Home" is about life on the open road and the lonesome truck driver driving miles and miles every day.   The word "Home" also factors into the lonely state of the driver because he misses his familiar surroundings so much so that he can't stop thinking about it.   John sums it all up nicely by saying "I still love you miles from home and I still need you all alone but it's my job to take it from coast to coast."   Bell further adds to the trucking dilemma by stating that "A cold beer= a lonely night".   Tough times for professional drivers everywhere so it seems as I now have even more respect for truckers thanks to John Bell's depiction of the lifestyle.
Buy:
http://www.amazon.com/Miles-From-Home/dp/B005WZSLLI
I have to say that John Bell's vocals are sharp as a knife and his singing style is quite appealing.   The song can be followed easily by many because of the light subject matter and also because John performs "Miles From Home" in such a way that doesn't fool, surprise or confuse the listener in any way possible.   I also have to add that the guitar parts are simplistic in nature yet extremely meaningful when it comes to the backbone of the song.   The guitar playing is really what drove this song home and I actually LOVE the chord melodies that John Bell created here.  
In the end I have come to find out that truckers may get to see many different parts of the country but what they are not seeing on a regular basis are the ones they love most.   This is something that professional drivers have to deal with all the time, so then this song's for you!   Not only did John Bell come up with a cool 'n' catchy tune but he also brought awareness to the trucking industry. So respect your drivers and give a shout out to Mr. Bell for taking it "Miles From Home"!   I look forward to seeing what roads John Bell travels down next time.   Now, who's ready for a road trip???
By Jimmy Rae – jrae2@att.net
4/5 Skopes