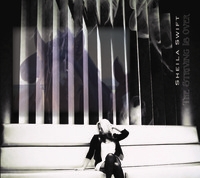 After listening to 'Sheila Swift's' most recent contribution to the music industry " Stay", we see that this singer/songwriter has taken steps in the right direction.   Many exiting changes have occurred between Sheila's new music release and her past work. After several recent tours across many parts of the world the song 'Stay' shows the artists more mature and expressive song writing abilities. The dynamic changes between the tempo and emotion of her music shows that she sees no boundaries when writing new songs.  
Sheila Swift, "Stay"
MP3: http://k002.kiwi6.com/hotlink/1o3mu6lng4/stay.mp3
'Stay' is certainly a different direction from past songs such as 'Ballard of Buchanan' which held a more 1940's swing approach. Her rich and warm vocals have continued to impress both new audiences and her current fan base from the start of her music career to the present day. Many pop singers tend to have their songs written for them, this however is not the case with Swifts music as she writes all of her own material.
A very exiting and bright future can be seen within the near future for this aspiring pop artist. With talented vocals and fluent rhythmic songs, anyone who will have the pleasure to listen to Swifts music will also have the privilege to say that they listened to her before she had made it.  
Tom @ http://myplaytag.com