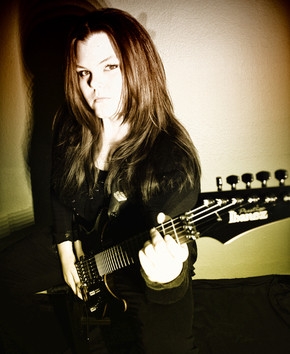 Hello people of the world, glad to see we are all still here. The more I read the Internet the more grateful I am to be blessed with another day. I just signed up for Aereo.com on my Roku and I think it is the Napster of TV. For those not familiar go here: https://aereo.com/about. Aereo lets me pay $8/month to get TV anywhere without paying Comcast or Verizon $200+ per month. I hate paying all the $$ when I only like 3 channels! Well lets gets back to the music and this week I have got the beautiful and talented Hailey Woodruff with us. I became a fan of Hailey after diving into her self titled LP and reading she lived in Boston for 5 years. With songs like "Silenced" and "Only One" I could not believe she does it all herself. Join us this week as we talk about going it solo, radiation from Japan, upcoming music videos, and much more!
Stoli: Where are we talking from today and how was your summer?
I am in Southern California, where summer is always energetic and productive!   …and a little fiery.
Stoli: Being that you are from Southern California, do you even get excited for the change of seasons?
I do, actually, having lived in Boston for five years.   I've had the privilege of witnessing seasonal changes at their finest throughout New England.   I just have to drive for a couple hours to truly relish it out here, otherwise it's only a mere temperature difference.
Listen:
https://soundcloud.com/haileywoodruff
 
Stoli: At what point in life did you begin to see music as a career and less of a hobby?
My first paid gig: At age 17, I had two weeks to learn a [laughably] complex guitar piece for my brother's saxophone instructor, titled "I Saw Elvis" — a guitar and saxophone duet purportedly composed by a metal guitarist to illustrate elements of "jazz theory." I was fairly new to guitar and had never read music in my life, so it appeared at first glance as if someone had dipped their fingers into paint and flecked it all over a hundred measures per five sheets of 8×14" paper.   I pounded through it daily, though, and performed it with him for his Doctorate Recital at Pomona College.   I was then handed a $100 check after the performance and thought, I could get used to this…
 
Stoli: I am really enjoying your self-titled LP you have out now. How did you decide on these 9 songs to make the final cut?
The nine tracks I chose form an epitome of my life.   I wrote the guitars and drums for "Only One" when I was 15 years old, and have since continued to evolve from that very song as a composer.   "Solace in a Nightmare" and "Floor of Deepest Walls" are the newest of them on this album, but all the tracks are the most mentally-driven of my repertoire thus far, so they all offer their very own colors, while still pressing some serious backbone at levels commensurate with each other.   Each of these songs are foundations set in their own elemental categories, which are setting pace for the next album's more emotive structures.
Stoli: How long were you working on this album and where can readers buy & stream it online?
This is a long story. To keep it short, I had started recording it in 2010, but finished it last year, with over a year of that time passing inactively — according to my studio journal, only about a month's worth of total time went into actually working on it.   The songs were fully prepared, and there was no struggle decisively, but a stressfully draining issue persisted, which eventually led me into a successful surgery on my left arm this past March.   It added a great deal of significance to the album, and unmatched appreciation for my producer's patience (and faith) in the whole process.   I currently only have a limited edition hard copy available for sale through CDbaby, but anyone can stream it online through any of my websites, or by downloading my free smartphone app through Google Play or iTunes.
 
Stoli: You do all vocals and instrumentals on the album which is impressive. What is the advantage to working solo on such a major project?
There's an advantage to that!? No, I suppose the only true advantage is not having to wait around on others; band drama.   There's also a great deal of respect earned for "putting bands to shame." (Not my quote…)
 
Stoli: What do you find to be the most challenging and rewarding to being an independent musician today?
The most challenging obstacle is always finances.   Independent artists have to sacrifice so much more for little progress than artists who are provided access to unlimited resources.   The reward, though, is creative freedom, and knowing another fan of my favorite indie/major-label bands is listening to my work with the same intent and appreciation.   That kind of gratification cannot be bought with any amount of commercial backing.
Stoli: I am loving your song "Silenced" on the album. What is that song about and when did you write that single?
"Silenced" is the most in-the-moment song I've ever hatched.   It's about remaining honest with yourself in times when others' destructive actions following a minor mistake can leave you speechless, and still moving forward with concentration on what's important, not what people think.
 
Stoli: Do you have any music videos out from the album and if not what track could you see a vision for a music video?
I'm currently wrapping up a video for "Solace in a Nightmare", but I have some really great ideas in store for "Confession" and "Floor of Deepest Walls".   My vision for "Black & Red" might be intimidating and wondrous, but will only take place live, and if my level of success grows enough to allow for it.
 
Stoli: If we were to come visit you in Southern Cali, where would we go to drink beer and see live music?
We would go to wherever a great band or musician is scheduled to play. I would just hope they have Paulaner Salvator on tap…
Stoli: Being that you are on the west coast, does the radiation being emitted by Fukushima Daiichi in Japan concern or worry you?
I'm more concerned for Japan in this matter than I'll ever be of the states.   Ocean depths help deplete the particles of their radiation as they spread out, but, who knows.
Stoli: What is coming up for Hailey Woodruff and where you @ online?
A band! I'm ready and eager to get these songs to the stage — it's just a matter of finding the right drummer and bassist who will learn what I've written.
www.haileywoodruff.com
www.reverbnation.com/haileywoodruff
www.facebook.com/haileywoodruff
www.last.fm/Hailey+Woodruff