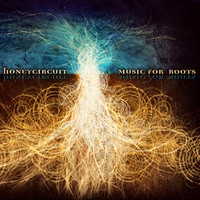 Formed in 2010, Honeycircuit is a duo purveying a genre of music described as "electro-conscious" and "world-folk." Honeycircuit brings their act to "primarily underground" venues, one of which sounds ominous: "Burning Man decompression parties." The band has also performed at the magical-sounding New York Faerie Festival.
Honeycircuit's latest offering, Music For Roots, is album #3.
The track "Roots" is percussive and quite mystical-sounding. A Far East-type fiddle eventually takes the forefront.
"Contained in Skin" is a rather unique title. Vocals arrive about one minute in. Sounds like a female, one cloaked in a fair amount of intrigue. About 2:15 in, this voice really beings to take off. It's a pleasing vox, no doubt. Vaguely sensual, also spiritual. Approaching the song's end, the vocals climb a few octaves. During this time, there lurks a sense of tragedy.
With "Threads of Fire," there arrives an electronic sound, along with the comparatively ancient sound of a fiddle. Is that part of the Honeycircuit experience, merging the Old World with the New? Whatever the case, it provides for a rather engaging listen.
"Stillness" seems like a strange title. How does one convey a sound that captures the absence of movement? Well, have a listen & judge for yourself. Personally, I can say that there's this recurring synth jingle which produces a haunting effect on me.
"Sweet Devil" brings lyrics that are more easily audible than those found on preceding tracks. I must say some of it piques my interest: "tell me all of the things I should do now."
"Serpent Tongue" is a kinetic piece indeed, this time with a male vocalist. A good voice on him: some manly power, along with a bit of twang. An effervescent synth buzz gives this track an undeniably modern edge.
"Softest Bullet" is indeed a memorable juxtaposition of words.
Regarding the album on the whole, adjectives that come to mind are: experimental, complex, multidimensional.
Decompress yourself at: http://honeycircuit.bandcamp.com/
Honeycircuit is Pandora-accessible, and you Spotify freaks out there will not be disappointed.
Other pleasures await at: https://itunes.apple.com/us/album/music-for-roots/id642846375
Ray Cavanaugh – owleyesgatsby@yahoo.com