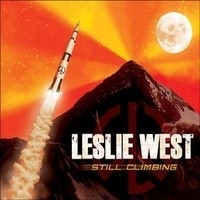 Since becoming the foundation of the band Mountain, Leslie has been regarded as one of rock's premier guitarists.   In talking to him (and if you've heard him on Howard Stern), he is one of those guys that says funny stuff, just as a matter of fact.   After assorted health issues, a gig with the Rock & Roll Fantasy Camp got him re-energized.   He even quit drugs and smoking (everything), and his voice has gotten more soulful, rather than just husky.   As in his last release Unusual Suspects, he has the support of some of his closest musical friends, namely Jonny Lang, Johnny Winter, Dee Snider, and Mark Tremonti. On this release, Leslie merely used his Dean Signature model guitars (with his Mountain of Tone pickups of course), Blackstar amps, and NO pedals.   Hi wife Jenni collaborated on the lyrics.  
Dyin' Since The Day I Was Born is a rocking self-portrait, with some fitting guitar work.     Feeling Good (Anthony Newley, Traffic) has Leslie and buddy Dee Snider trading vocals, putting some new life in it.   When A Man Loves A Woman has Jonny Lang collaborating, giving it an added punch.   Although it is a much-covered song, a great treatment like this one is a standout.   The old Mountain standard Long Red has that Southern rock feel, complimented by some 70's Mountain-like sounding keyboards, the way it was supposed to sound originally.   Tales Of Woe is an acoustic soulful ballad.   Fade Into You is a ballad that starts out slow acoustically, and then picks up with some soaring guitar.  
I was impressed by this release, and think that Leslie is right back on the track.   His voice is alluring, and his axe work is right there.   I've seen him solo, and with the Mountain reunion shows.   The classics are always fun to hear, but relevant new material like this adds a lot to the entire package!  
https://www.facebook.com/lesliewestmountain
Rating: 3.5/5
By R.M. Engelman