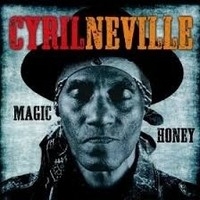 Cyril Neville exudes the true New Orleans sound that has defined the city's appeal with his new release, Magic Honey. The purity of his talent is defined by every note that spills from the speakers and dances into your body.
Neville is the epitome of cool. He sings with strength and grace and the music surrounding his smooth vocals is the perfect compliment. He rocks, he's mellow, witchy and precise. There are not enough adjectives in the world that describe his coolness.
He is joined by some musical legends, New Orleans veteran Allen Toussaint handling the keys on "Another Man" and Dr. John on organ for "Swamp Funk".   Mike Zito and Walter Trout on guitars is the perfect signature to Neville's classic sound.
Listening to this CD is a spiritual journey; a religious experience to say the least. He lifts your soul to heaven and back then wraps around your psyche and makes you a forever faithful fan. His voice soars and will put you in the heart of the New Orleans musical mysticism. It starts in your core and invades every inch of your soul.
Cyril Neville's new CD, Magic Honey is beyond magical. It is a vibe that stands out and is a cut above the rest. Neville can make a music lover out of the hardest skeptic. His bluesy jams will dissipate the saddest heartaches and lighten the darkest woes. This CD makes you want to stand up and scream, amen. Feel the Neville experience for yourself I guarantee 100% pure satisfaction.
I rate this 5 out of 5
Rebecca Hosking – hoskingrebecca@gmail.com – www.rebeccahosking.com