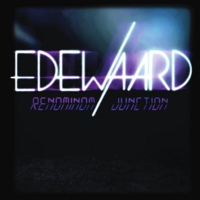 Enter Edewaard. An Oregon five-piece interruption to the mundane semi orbit of Alternative/Indie jangle pop. While one of the more interesting concoctions of their kind out there, Edewaard thrive on two-part boy girl harmonies to ride the wind of the every Theology Major. Fortunately for career blasphemes such as myself though the delivery here is so delightfully campy it sounds like Magneto giving a sermon of St. John the Baptist Saturday Night.   Its quite comedy actually, but its off putting somehow nonetheless, as you find yourself ignoring the fact that the lead singer was actually serious just then until you manage to escape the sound of your own laughing long enough to hear background vocalist Katie Peter's chime of consciousness for 'The Evil One'.   Easy enough Kale…but what does that mean for us?
Well the verdict here is the Music is good. A lot better than expected actually. Nothing I'd pay money for but they make for a good not so serious live show date. The lyrics are full of mournful meaning and the melodies are easy breezy that, when coupled with the vocal of a coked-out pervert with a broken heart and well you've got yourself the reason you always wanted to uh…save the Whales.
http://www.cdbaby.com/cd/edewaard2
All lovestruck pretentions aside, lead singer and principle songwriter Matthew Edewaard can pen a suicide note with the best. They say the grass on the other side of your life ain't always greener/If you can't decide if you'd be alright if you don't see her. Cries Edewaard on the chorus to "Greener." But retribution comes in droves, as Edewaard explains to us on the comedic romp of "Tangled"   I knew that was true when the clock struck twelve/Little Bo Peep put me through hell.
Now provided you happen to be in the Pacific Northwest, you're more or less crap out of luck if you mean to impress a certain someone you'll never have any intention of knowing. "But Seriously." This is the bands second Longplayer in as many months, hustling for niceties and bracing the coasts extensively, so unless you guys have a reason to hit the pay button then odds are you'll never get to Sex. I know, no justice in the world for you right? Well. At least you got the last Macchiato.
Robin Kale – robin.kale@e-mile.co.uk