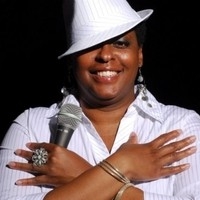 What comes to mind right away is powerhouse singer when you bear witness to Za'Nae Saadiq's vocal abilities.   The new single "A One Man's Woman" includes a video that proves that Za'Nae has the pipes to go far in this business.   The indie artist from North Carolina is on a mission to spread her soul far and near to as many people as possible.
Her message is simple and that is to instill as much love as she can into this world through music.   God knows we could all use a little extra lovin' from time to time, so enter Za'Nae Saadiq, "A One Man's Woman".   When you watch the video, you will see that Za'Nae is one genuine artist with plenty of appeal.   Her voice alone will have you hooked and then throw in an abundance of feeling & emotion to make up one gripping song.   Saadiq has been singing since the tender age of 6 in the area of gospel.   Singing in the church performing gospel music was a huge part of Za'Nae's life and you can definitely hear that strong influence on "A One Man's Woman".
"One Man's Woman"
http://youtu.be/XIK2q-x4mm4
Mixing styles of Neo Soul, R&B and Pop comes natural to Za'Nae these days as this reoccurring theme has become synonymous with who she is as an artist.   A STRONG 'N' POWERFUL, ONE-MAN-KINDA-WOMAN can best sum up Za'Nae Saadiq in all her shining glory.   The sound and pitch of Za'Nae's voice is just so enjoyable to hear as the singer will most certainly put you in a good place.   "A One Man's Woman" is delicately soft to the touch yet potent enough to stand on its own two feet.   A perfect example that would best describe this would be a vulnerable baby meets Rosa Parks and there you have it!
Za'Nae Saadiq looks to spread as much love as she can through music and I have to say that is a beautiful thing.   Just like the Beatles said, "All You Need is Love"!   And on that note I feel that the best way to end this review is for all of us to just come together and say AMEN and HALLELUJA!   Now that is a powerful force my friends that can spread like wild fire; The "One Man's Woman", Za'Nae Saadiq has spoken!
https://itunes.apple.com/lv/album/a-one-mans-woman-single/id506685590
http://www.amazon.com/A-One-Mans-Woman/dp/B007YOASHU
https://www.facebook.com/pages/ZaNae-Saadiq/134363666663311
5/5 Skopes
By Jimmy Rae (jrae2@att.net)