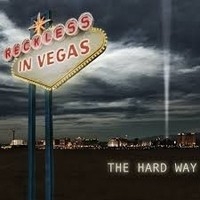 In principle, cover tunes often rule. It's that moment when one of your favorite bands decides to belt out that song you love from your other favorite band. Often, it's that unique twist they put on it or the translation of one band's song in the sound of those doing the covering. But more often than not, covers come in the form of homage to those who came before and left an indelible mark on an artist. Such is the case with Michael Shapiro. Hailing from Las Vegas, he was transfixed with his grandfather's stories of the golden age of Vegas and the larger-than-life artists who lived and performed in those yesteryears.
Under the guise of Reckless In Vegas, Shapiro et al. have laid down The Hard Way–11-tracks of reworked and rocked up versions of Vegas staples through the past few decades.
A Vegas homage album wouldn't be complete without shout outs to two scene staples: Frank and Dean. Take Frank's "My Way" opening to jangle melody and Shapiro's crooning. The pristine vocal delivery finally gives way to Rock tinged as the jangle electric gives way to modern chug note work. The band has been touted as "Rat Pack meets Green Day" and this track does bear a resemblance with its breaks and soaring guitar work. Equally crooner/Rock mash up is Dean Martin's "Everybody Loves Somebody." Opening again to vocal/electric tandem, this one sticks to the standard through the opening verse until high hat beats count in the Rock edge with more heavy electric riffs, aggressive backing percussion and Shapiro again morphing croon into Rock. What's noteworthy is that in both vocal deliveries, his vocal command enjoys equal comfort. "Girl You'll Be A Woman Soon" enjoyed a reemergence after Urge Overkill appeared on the Pulp Fiction soundtrack. RIV's version does the track more justice in that Shapiro has a signature rasp in the vocals that resembles Neil Diamond's original. With the addition of Surf Rock style electric strums and picks, this one rocks out in an edge before mashing into "Solitary Man" replete with more chug electric and soaring vocals in the chorus. Tom Jones' "It's Not Unusual" opens as mid tempo rocker through the opening verse and chorus with staccato vocal delivery and accompanying musicality before this one launches into the guitar frenzy of Dick Dale's "Miserlou." The note work in this track is very unforgiving but RIV replicate it effortlessly between bass and electric. Elvis naturally makes an appearance in the form of the acoustically driven "Love Me Tender." The addition of full band takes this from demure love song to anthemic rocker at the midpoint through to the outro.
A throwback, yet reworked album of this ilk runs the risk of becoming really kitschy. This is not the case on The Hard Way. The tracks are treated respectfully but are in fact, reworked in a clear Rock, Punk-tinged vein not unlike what Social Distortion did with Cash's "Ring Of Fire." The music is tight; the production is clean and hearing these famous tracks cast in a different light is not only clever but neatly and again, respectfully, blows the dust off of them. Well conceived and even better in execution, I hope this gains enough of a following to warrant "The Harder Way."
http://www.recklessinvegas.com/item/the-hard-way/
by Chris West – cwestlaz@gmail.com
I give this 4/5 Skopes.