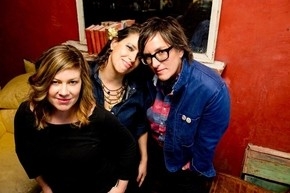 Jill Cunniff, Gabrielle Glaser and Kate Schellenbach, collectively known as Luscious Jackson, will return on November 5 with Magic Hour.
Produced by Jill and Gabby (with an assist from old friend Beastie Boy Adam Horovitz on the track "So Rock On") and released on the band's own City Song imprint, Magic Hour is Luscious Jackson's fourth album and first full-length offering of new material since 1999's Electric Honey.
"When we were making the new album," Jill commented, "we felt like we did when we were making our first demos. We were just smiling and laughing all the time because we rediscovered a musical connection we all really loved and missed."
In addition to the album announcement, the band has also shared their new song, "Show Us What You Got," at http://youtu.be/XGtHTsbxEfw.