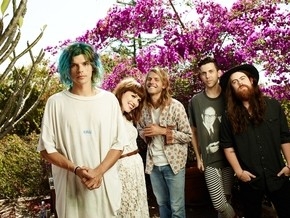 Grouplove reveal a second track, "Borderlines and Aliens," from their highly anticipated new album "Spreading Rumours," out September 17th.
The video was created by NYC-based animation studio Ace & Son, and based on original artwork by the Grouplove's own Hannah Hooper.
Spreading Rumours comes on the heels of Grouplove's infectious lead single, "Ways To Go," which is now Top 5 at Alternative radio.   To herald the upcoming release, Grouplove announced "The Seesaw Tour" which will feature two-night stands in eleven cities across the country. The first night electric; the second night stripped down/acoustic.
Check out the animated video for "BORDERLINES AND ALIENS" here:
http://youtu.be/kgF9knPeReo