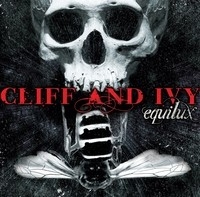 Hailing from Anchorage, Alaska which can prove to be cold as hell in the winter, Cliff and Ivy are on fire with their new release 'Equilux'.   With themes of mystery, horror, science fiction and real-life imagery racing through your ears, Cliff and Ivy have proven that 'Equilux' is one intriguing concept.   With an overload of styles & influences hitting you all at once, Cliff and Ivy refuse to be categorized as some generic band of Today.
https://soundcloud.com/cliff-and-ivy
Original to the bone, Cliff and Ivy have come up with an album that shows signs of: goth, rock, pop, dance, industrial synth, electronic, EBM (Electronic Body Music), punk, metal, dark wave and no wave.   This fierce group is pretty much a smorgasbord of various musical elements & sounds that will blow your mind!   The "Cold as Ice" band is made up of six talented members: Ivy Silence on lead vocals, John Scott on synthesizer and piano (synth), Scott Feris on guitar, Stephanie Ward on backing vocals, CliffMonk on bass and Don Bolles on drums.   The group has been compared to the likes of: The Prodigy, Killing Joke, Ministry and Siouxsie and the Banshees just to name a few.   And they have even been referred to as "the evil B-52's"!
Just as "The Red Queen" controls everything in "The Hive" from the movie "Resident Evil", Cliff and Ivy are buzzing with excitement and ready to grab the bull by the horns!   The 12-track recording plays along like some scary, twisted tale that may not have such a happy ending.   Playing up the doom 'n' gloom card quite well on 'Equilux', Cliff and Ivy urge listeners to realize that everything is not so peachy keen today.   One will hear Ivy Silence hypnotize the crowd with her dark 'n' direct lyrics that will speak out to the masses.   Ivy's lyrics appear to be quite poetic in form as she really digs deep to come up with some imaginative rhyme schemes.   But the sunshine does peek out and roses do bloom from time to time on 'Equilux' like on track three, "Get Up", where they actually give you a danceable Pop/Retro vibe mixed with some industrial sound.   I'd even go so far as to say that this song could potentially be used for motivating oneself for exercise purposes.   And who knows maybe even Richard Simmons himself would be fond of the track so "Get Up" people and move those buns!   The listener will also hear very nice vocal harmonies thrown into the mix and perfect examples of this would be found on the songs "The Development of Democracy" & "Superclass".
'Lost Your Soul":
https://www.youtube.com/watch?v=Jo6838z51X0
Cliff and Ivy have created a futuristic monster full of wicked beats and ridiculously creative oddities that will baffle your senses.     I have to say that I am quite impressed with the efforts put forth toward the making of the new album but I do feel that Cliff and Ivy have a lot more to offer.   'Equilux' is one unique piece of material that will surprise many as Ivy & company look to hush up the critics.   One last thing I'd like to add is maybe for the next project Cliff and Ivy can give me some Nine Inch Nails meets Skrillex meets Crystal Method, which would make for one huge monstrosity of audio.   Cliff and Ivy deliver an explosion of sound that is like no other, so can't wait to see where they take it next!
Bandcamp: http://cliffandivy.bandcamp.com/
By Jimmy Rae (jrae2@att.net)
Rating: 3.5/5 Skopes