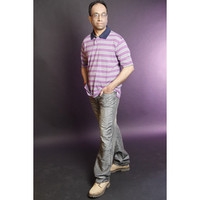 Newsflash: Japor just released his latest collection of songs via the below Jango Link.
About the Band: Japor is the work of one Rony Chandaria an ambient composer. Japor has been making a name for himself musically both regionally and internationally.
Musical Genera: Trippy-Ambient, Chill, Melodic-Progressive Fusion, 80's Electronica
Review: These songs are the result though far from a self-indulgent ego trip, rather a moving and elegiac artistic statement from start to finish. This is not your overly predictable Ramon Noodle Ambient Artist. Instead Japor could be classed as a 4 genera artist: Ambient, Chill, Experimental and Progressive Industrial. Japor has way too much precision and clarity to live in the shadows of overly-predictable Ambient/Chill. Indeed this is clearly evident in songs like "Raven" and "I Watch You" which methodically ups the ante to a very respectable level of catchy musical expression and craftsmanship that transcends pigeonholing. The music is also commercially viable with a fresh sound and an entertaining vibe that holds the attentions span of the listener perfectly. In a nutshell this is "At the Gates" meets "Iced Earth." The multi- song line-up comes fully loaded and appeals to many listeners with a wide variety of musical styles.
Criticism: Some aspect of the production sound a bit amateurish. Overall I find this artist quite amazing with a huge amount of potential.
Bottom Line: I would imagine in time we will hear more from this artist via Movies and TV productions and vide games. No doubt Japor has carved a marketable niche for himself thus far setting himself up for marketable success over the years to come via his music and Production know how. I would not be surprised to hear his music featured one day on the Discovery Channel. But for now I can honestly say this is one artist that clearly gives you a musical snapshot that is highly original, unique and dare I say brilliant in its delivery.
JANGO LINK: http://www.jango.com/music/Japor?l=0
More JAPOR music — https://itunes.apple.com/us/album/country-summer-breeze-guitar/id663341104
Rating: 1.5/5
Michael Rand edited by Mindy McCall
Review Comments: therandbrand@gmail.com