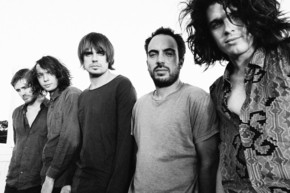 Australia's DEEP SEA ARCADE have spent the best part of the last year living in the UK, soaking up the culture and imparting some of their own as they lay down their sophomore record, quickly creating the same buzz in their temporary home of London which lead to them being one of Sydney's most respected indie acts.
https://soundcloud.com/deepseaarcade/black-cat/
The new single 'Black Cat' is the first from the band's new album (slated for early 2014), the follow-up to their 2012 debut Outlands, the global success of which led to the band's extended sojourn to the UK. Recorded and mixed by Dan Grech-Margueray (Lana Del Rey, The Vaccines, Howling Bells, The Kooks), the band will return to Australia to celebrate Black Cat's release with a string of Australian capital city shows in September and October.