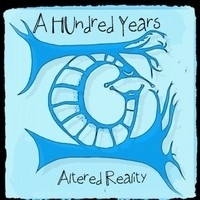 Canada's A Hundred Years has channeled their dark, ominous songwriting into a frightful collection of 13-tracks on their appropriately named full-length, Altered Reality. The album is rife with their self-described "psychedelic Badlands Rock" with lots of throwback 60s Garage Fuzz, California Desert Rock and "really slow Death Metal." The ethos of the album is dark lyrical matter presented in an equally dark musical package. The songs culminate with a feeling of "not fitting into society and being something like anthems for weirdoes." Turns out that is an apt description.
Jangle guitar ushers in "Mermaids" but any feel good gives way initially with Simmons' Nick Cave-like vocal delivery and finally the chorus of heavy fuzz, urgent beat work from the percussion and effects-laden electric notes. The dark ethos of the album is laid down immediately on this opening dirge track. "Black Bones" opens to more jangle and plods out of the gate at mid-tempo with Simmons now channeling vintage Morrison on the vocal delivery. Any restraint goes out the window at the midpoint when the fuzz returns in a sonic assault, throaty vocal yells replace the melodic verses and the amps sound to be begging for mercy. "Parallel Lies" blasts at the intro and eschews the "slow Death Metal" moniker with full agro electric that is dripping with effects, messy bent fills and drumhead destruction in the percussion. Eerie backing keys and wah electric open "Ghost." Don't let the name fool you; there is no "Unchained Melody" here. It is a funk-laced instrumental rocker that builds from opening electric and backing snare through the keys and then intricate electric note work. Even as "toned down" as this one may appear on the surface, the urgency in the music is ever-present. "Kong" follows the opening formula with a slight restraint through the verse, only to implode at the chorus in sheer unabashed blast musicality. Finally, "Cockroach Mambo" is another aural onslaught with more organic, messy guitar work in the melody and fill departments. Never mind the whimsical track title; this one is still soaked in the dark, downtrodden, dirge-like vibe of the tracks that came before it.
The 13-tracks of Altered Reality bring strife, power and an edge that belies the musicality behind the cacophonous soundscapes. Despite the often-muddled sound of the guitar work, facets of slide, wah and controlled distortion rise to the surface… this implies a command of instrument. Also their commitment to their raw, powerful sound also illustrates that these guys are making the very music they want to be. Certainly not for everyone, but a respectable first outing.  
http://www.a-hundredyears.com/home.cfm  
Christopher West – cwestlaz@gmail.com
I give this 3/5 Skopes.