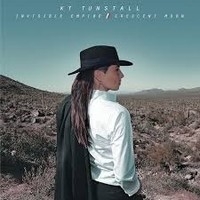 To most of the top forty going public, Scottish born Kate "K.T." Tunstall experienced success at a largely forgettable rate here in the states back in 2006. Fans of her most popular chart topping singles "Black Horse and the Cherry Tree" and "Suddenly I See" weren't allowed to wet their "Eye to the Telescope" whistles, and after the emergence of two subsequent albums of like minded material, Tunstall failed with flying colors to exceed or even meet the clever pastiche of her debut album, leaving her to rummage for indie pepper in the singer/songwriter bargain bin for the last seven years.
 
Recorded entirely during an Arizona calendar year, her fifth long player decadently entitled "Invisible Empire/Crescent" moon is comprised of thirteen tracks of her most raw and exquisite work to date, and I for one am quite happy to report though that there isn't a single Mirage in the bunch.    
"Invisible Empire"
http://kttunstall.com/post/56956082574/invisible-empire
 
Tracks like the lead single "Feel it All" explore a deeper side of Tunstall's alt/country rooting, as does most of the album's rattle snake chic. The sound can be off putting though, waiting for an absolution…but it gets you there. Your love, that is. K.T. Tunstall, who will neither confirm nor deny the album was written as an homage to her late father, offers the most clear and clever line on the album(that seems to point to otherwise) on second track "Made of Glass".   Cheating ourselves to believe we'll last/like a fool I thought it was true/I was holding your flowers/And only you knew But wait, it gets better. The string laden "Crescent Moon", serves arguably as the most beautiful track on any album you'll hear this year, while   "Waiting For The Heart" is dead-on early Mazzy Star desert desolatte. Yes.
 
Now don't get me wrong, the LP sounds good. Like late 70's classic rock good. There are no instantly accessible top pop tunes on this album by any stretch of the imagination, and while that may strike the ill tempered as somehow faux, true fans of a recording artist who are willing to evolve with a work's evolution. "Invisible Empire/Crescent Moon" is a splendid achievement, and gets my Godly nods for songwriting of the year. It navigates a tougher road, but a better road to travel for new and old learners all the same. Bravo Kate.
http://kttunstall.com
 
Robin Kale – robinne.gilmore@gmail.com