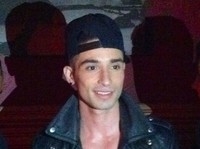 About the Artist: AxelJordan is a stepping stone into the future of pop music. With his distinct R&B/New Wave sound, Jordan is sure to please the ears of all who listen. His latest single "Release You" is out, So read this review and check out the below link for yourself.
URL – http://www.axeljordan.com/
Review: Listening to the first few seconds of "Release You" you will agree with the stepping stone comment in the first paragraph. Admittedly, there's a whole lot of variety to this arrangement and performance. First: The impressive Jordan brings to the table some amazing songwriting skills, rap-esque type vocal performances and a rock solid sound. Second: equally as impressive is his overall look and image. Third: his overall sound and amazing vocal delivery is quite diversified. In fact one could classify Jordan as a Hip Hop, Dance-Pop combo. This is harder to do than it sounds. All songs are a skillful combination of all the aforementioned genera's. Music will remind you of Kanye West, Beanie Sigel, Rick Ross, but I can also hear Nas, Freeway and even Memphis Bleek. Jordan is a triple threat and has the songwriting and entertaining presence make a big splash within the New York region and beyond. There's also a unique quality to this track that breaks the mold when compared to the overly predictable, forgetful music that's been filling the airwaves lately. What am I trying to say — well let me start by saying there is nothing predictable and forgetful about this track.   What's more – not every square inch is filled with musical ambience delivered under duress — but musical space this allows the music to breathe on its own with passion that cannot be faked. Equally as impressive is how marketable AJ is as he has effectively found the voice for all frustrated pop music fans out there right now that honesty want something more besides Jack Johnson, Jason Mraz and Maroon 5. Well AxelJordan is here. Release You also covers so much ground ambience wise and despite all this manages to not spread itself to thin across to many lines — nice touch. This is harder to do than it sounds and can only be a by product of being ones self musically.
Conclusion: I've always said if you can play it a party, then it's marketable. The music of AxelJordan is extremely marketable – with amazing songs and flavorful music that just makes you feel good.
Check out "Release You" single @SOUNDCLOUD – http://soundcloud.com/axeljordan
by Heather Savage edited by Sebastian Cole.
Review comments: heathersavage5@gmail.com
Rating: 4/5 Stars