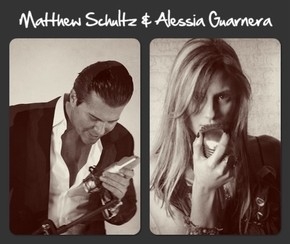 Matthew Schultz may well be on his way to becoming a household name, the singer-songwriter and actor has been making waves since his collaborative breakthrough song "Money Or Me" hit airwaves earlier this year with millions of plays on YouTube. Now he's back with two sure-to-be-hit singles, one is a cover of the Rihanna classic "Stay" featuring Alessia Guarnera and an all original dance floor song "Right Heart, Wrong Time". Here we had a chance to catch up to Matthew and Alessia.
Skope: How long have you been singing and what made you decide to pursue it as a career?
Matthew Schultz: I have been singing and songwriting since I was 8 years old.   It all started when I picked up my first guitar!
Skope: Your song "Money Or Me" has really put you on the map, how did that one come about?
Matthew: "Money or Me" was a song that I wrote about something I observed during my life.   I felt that once a person hits a certain age in life and is successful, it is hard to figure out if the person you are in a relationship with is with you for you, or your situation.   The older you get I feel that people often look for comfort instead of true love and people fall in love with a situation instead of a person. "When I got money she loves me… When I'm broke she don't!" haha…
Skope: You currently have 2 singles out simultaneously, what made you decide to cover Rihanna's hit "Stay"?
Matthew: I was always in love with "Stay" by Rihanna and I thought it was such an amazing song that I just had to do try and do it! My dear friend Sal gave me the idea one afternoon.
"Right Heart Wrong Time"
http://www.youtube.com/watch?v=2V1xH6HEIys
 
Stay – Matthew Schultz feat Alessia Guarnera (Rihanna Cover)
http://www.youtube.com/watch?v=OEhMEEI7p-0
 
Skope: Your acoustic version of the song really brings out a darker side of it, with nice orchestral flourishes and Alessia Guarnera's voice bringing an earthier vibe. What made you decide to turn the song into a duet?
Matthew:   I felt that if I did a duet together with Alessia it would bring a cool contrast to the sound.   Her beautiful amazing earthy raw high vocals along with my low baritone style are an amazing fit.   I wanted it to be emotional and sexy!   Armando Guarnera is the producer that re-mixed and captured additional emotions of the song with his re-arrangement by adding nylon strings, vibrant violins and orchestral sounds.   I was really excited to work on this project and I am so happy the way it turned out!
Skope: Who is Alessia Guarnera and how did you end up collaborating with her?
Matthew:   Alessia is one of the most talented and amazing vocalists that I have ever witnessed.   It all started when I started working with my amazing producer Armando Guarnera and met his daughter Alessia.   The Guarnera's are such a beautiful family with wonderful Italian traditions that have music streaming through their veins for many generations. I work with Alessia on co-writing songs and I think she is a star "She is the Janis Joplin of her time."
Skope: Right Heart, Wrong Time. What is the song about?
Matthew: This was a song that has a special meaning to me. It is a song about someone falling in love with a person, but because of outside situations you are not able to be with that person. I wanted it to be sort of a new age "Romeo & Juliet" and I wanted to capture that emotion with a passionate Latin feel.   I wanted those vibrato Spanish vocals by Cristobal Cintron in the background along with nylon string guitars and beat you can dance too! I am also releasing a Remix with Team Pitbull & 305 records recording artist David Rush & Pointblank this month.   I have a surprise; there could even be another "Duet" on the horizon for this song!
Skope: Did you write the song yourself or do you work with a team? What producers are you working with?
Matthew: I work with my team Armando Guarnera (Producer & Musician), Alessia Guarnera (Co-Writer & Vocalist)
Skope: The song has a very Latin feel, with staccato guitars and a bouncy dance groove. Is it part of your heritage?
Matthew: I grew up listening to the Gypsy Kings, one of my favorite bands. To me they create the most passionate and emotional music. They were definitely my influence and inspiration when visualizing how I wanted this track to turn out! This vision was brought to life by Armando his musical talents with a modern twist.
Skope: Now that you have a few singles out and have toppled the ReverbNation charts, are there any plans for a full length release in the works?
Matthew: Yes I have recently finished my EP Album. I am diligently working on my full length album as we speak. I hope to have a January release date and bring in 2014 with a bang!
Skope: Do you perform live and work with a band? If so, who are the other members and what do they do?
Matthew: I have been more focused on recording as of late however, when I do perform I call on the Guarnera brothers also known as MGM to back me.   Live instruments and sounds are the only way to go.
Skope: Any chance you'll be touring to support your songs and where can fans check out your new singles "Stay" and "Right Heart, Wrong Time"?
Matthew: Yes, I have plans to perform and promote my music once my full length album is released.   Follow me at @mschultz33 and like my fan page   https://www.facebook.com/matthewbschultz and check out my ReverbNation and link at http://www.reverbnation.com/matthewschultzofficial
Skope:   How did you end up collaborating with Matthew Schultz for the song "Stay"
Alessia Guarnera: Matthew has been a friend for a while, and he actually works with Armando Guarnera, the same producer that i work with…so matt had asked me to sing on the track with him, since the song is a duet, and of course I   took interest in the whole thing, so I went for it! It was a blast!!!   …and it went on from there…
Skope: What is it about that song that you connect with?
Alessia: I would have to say that I connect with the real ness of the song! It has a genuine sound, off the bat I knew I would enjoy singing it.   And the duet idea in this song was so clever! Matt and I created our own unique sound with this version, especially with the unique arrangements made by, Armando (producer). As a vocalist, the main key is connecting with what I am singing. If I don't get that initial connection, then I know it won't work for me, but in this case, it was awesome! a mellow deep vibe comes through the music and the vocals.   props to Matthew it sounds awesome!
Skope: You have a budding music career of your own, what type of music do you do?
Alessia: Yes I do!!! I sing and write all of my music, I would say that I lean towards a rock/soul style…there's a pop and blues twist Incorporated into my music. I'm a very big fan of rock, soul, blues, funk, and jazz…im definitely a soulful rock vocalist.
Skope: Where can people find more of your music?
Alessia:   You can check me out on my website; www.alessiaguarnera.com where you can find the links to all of my fan pages, such as Facebook, Twitter, Instagram, iTunes , and YouTube, etc…
Don't get left behind, check out Matthew Schultz so you can say "I knew him when…" http://matthewschultzmusic.com
Douglas Garnett – http://digdugdisaster.com – douglas.garnett@gmail.com