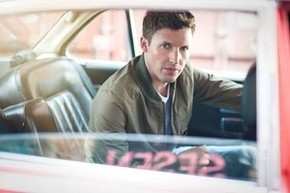 Multiple Grammy-nominated singer and songwriter James Blunt will release his fourth studio album MOON LANDING in the U.S. on November 5th. The highly anticipated new album was produced by Tom Rothrock (Beck, Moby, Foo Fighters), who worked with James on his multi-platinum selling debut BACK TO BEDLAM.   MOON LANDING also features production from Martin Terefe (KT Tunstall, Martha Wainwright, Jason Mraz).  
The album's anthemic first single, "Bonfire Heart," which was released today was co-written and produced by Ryan Tedder and can be heard here: http://youtu.be/rZB5LnNC-e0
"This is a much more personal album, and also quite back to basics," commented Blunt. "It's about me and Tom, the producer, finding where the story all started and where we are now.   It's an album about dreams, longing, first love."   About looking in the mirror and seeing the boy you were, the man you are — and learning to be comfortable with that, flaws and all. About getting back to basics and rediscovering the power of music to communicate emotion directly and honestly, without too much polish or complication.