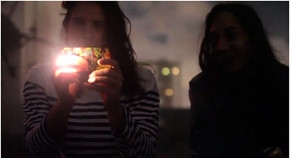 In the new video for "Baby Maybe," the A-side of Shark Week's Santurce 7″ coming out July 30th on Analog Edition Records, the Washington, DC quartet chronicles some of their exploits in the Puerto Rican district where they recorded the tracks and named the single after.
Watch the "Baby Maybe" video HERE.
Hearkening back to the glory days of rock 'n roll, Shark Week distills the raw energy of punk, infused with a hip-shaking garage pop sound. When not hanging upside down or swinging from the rafters, frontman Ryan Hunter Mitchell thrills with his gravelly baritone and screeching guitar solos over Alberto Pacheco's jangly guitar leads. Danielle Vu's pulsating bass rhythms and pounding drums from Dan Newhauser anchor the group. Named 'Santurce' after the San Juan, Puerto Rico neighborhood in which it was recorded, the two songs on the 7″ mirror the sun-bleached Caribbean beach weekend that gave it life.