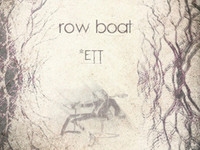 Starting out in 2003, Mark Wardale soon cofounded a band called Some Are Saints, which has since gone on hiatus. He then engaged in production and promotion as the founder of the indie label Musiker Records, which serves as an "outlet for struggling musicians to get their music heard within the industry."
As for Wardale's compositional side, having grown "bored of writing straightforward rock music," he went on a quest for new sonic plateaus. Soon enough, he was "completely overwhelmed by the unknown and experimental side of music." So he merged string and horn instruments into his post-rock genre.
Resulting from this new sort of music is Wardale's project Row Boat. Having released a 2012 EP called Svaret är Ja (translation: "The answer is yes."), Row Boat now comes with its full-length debut Ett (presumably also in a Scandinavian language).
The title track begins with this persistently eerie sound, like the sonic equivalent to a Scandinavian chill. I think of the ghosts of countless Vikings lost at sea, drifting about, frozen for all eternity. There's an Old Norse legend in which the world doesn't end with any one violent catastrophe, but just a very, very long snowfall that buries us all forever. In such an event, "Ett" wouldn't be a bad tune to have for company.
The latter part of the track "Prova" erupts into this glorious, weird symphony.
"Radslan" starts off barely within the realm of perception, and gradually builds itself into a lively and highly-percussive piece. It then closes on the same sort of ultra-soft note with which it began.
"Fix Your Bones" kinda sounds like an Alice in Chains song, but that's where the similarity ends. In this track, haunting bits of piano and synthesizer take turns, and then sometimes battle for listening supremacy.  
Though it eventually climbs the decibel meter, "By Winter's Night" remains quite gentle throughout.
There's something devotional, perhaps even monkish, about the track "Igloo." In fact, one might say as much regarding the album on the whole.
Listening: http://www.reverbnation.com/rowboat
Friendship: https://www.facebook.com/thisisrowboat
 
Ray Cavanaugh – owleyesgatsby@yahoo.com