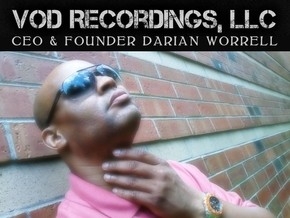 Every now and then we need a reminder that sometimes the most interesting things are what's bubbling up under the surface. I'm talking the underground, not the sanitized handiwiped bubblegum that's spoonfed to us by corporate investors and shareholder committees in boardrooms across the globe. We've all seen the dark underbelly of the music industry beast and are watching it's global downfall right before our eyes. Maybe that conversation is for another day, but I bring it up because there's another music 'industry' that's been brewing up new ideas regarding both business practices and what passes as music these days. VOD Recordings has been quietly building a roster of artists and establishing itself as a label that embraces the future of music and commerce. Here is VOD Recording President and Visionary Darian Worrell.
Skope: You started VOD back in 2005 and took a brief hiatus in 2012 before re-establishing in early 2013. What was your initial vision for VOD and has anything changed for you as the industry has changed dramatically over the last decade?
VOD Recordings:My original vision for VOD was to be primarily a hip hop label and as time changed I began to get involved with other genres of music and projects that I thought would help diversify our artist roster. The one thing that has changed dramitaclly over the years is social media, how music is produced, and digital music distribution.
Skope: Who are some of the artists you are working with now?
VOD:Some of the artist that we are currently working with are Galilee, Jack Knocks, David Houck, A Tone Da Priest, Tooshkie Jones, and of course Mr.Dar.
Skope: What are the advantages of being an independent label as opposed to being an offshoot of someone like Warner Brothers?
VOD:Some of the advantages of being an indie label is that we're able to develop our own timeline for releases, facilitate smaller budgets to market our music in a manner that works best for the artist, and work more closely with the artist developing their brand. The larger labels may have bigger budgets but depending on the genre of music, some artist get lost in the shuffle and never release a project. Another advantage to being on VOD is our artist can release as many projects as they like at anytime.
Skope: What are some of the exciting projects you have coming up?
VOD:At the present time we're focusing on our EDM artist Galilee, and his forthcoming EP Robot Arms, due for release July 9, 2013. We  released his 4 song maxi-single Sidewinder in europe on March 19, 2013, which is starting to gain fan appreciation and acceptance in Asia, Canada, and Mexico. Mr.Dar will release his long awaited LP Sanctuary in August 2013, Killah Spank The Wrath of Spank LP in the fall of 2013, and another Mr.Dar album titled Gilda before the end of the year. EDM artist Tooshkie Jones is also working on her EP Sunshine and we're also working on the K.I.S.S album featuring Atlanta Rapper A Tone Da Priest.
Skope: What do you look for in an artist when deciding whether or not to sign them to VOD?
VOD:The four things I mostly look for when signing a new artist is character, ambition, creativity and also knowledge of how the business works. I also like having artists on the label that are easy to work with and not overly sensitive to constructive criticism when it comes to their music.
Skope: VOD seems to cater to the avant garde and less commercial electronic music than say, Ultra Music. With all the commercialism of the EDM explosion of the last few years, how do you distinguish what is considered pop and what is really underground?
VOD:Ha! Anything backed by the majors is considered to be commercial music. Plain and simple. I'm a big fan of underground music but I must confess that I don't listen to pop music very much because radio stations play the same song multiple times throughout the day which I've never liked. Don't get me wrong, there are some commercial tracks that I think are unique and interesting, but VOD gravitates to artists that are doing something a little different than the norm when it comes to production and creativity of music.
Anything that's unique and exciting we want to explore because that's the artists that we want associated with VOD.  
Skope: What does an indie label do to promote artists on a shoestring budget and as a distributor, where can fans find VOD artists and music?
VOD:We use our various resources to market our music through Soundcloud, music blogs, our website, myspace, and other social media outlets such as Twitter, Facebook & mailchimp. Social media is so important in todays world of business that it would be pure suicide not to be involved in some aspect of promoting our music on social media sites. Our music can be found on iTunes, Spotify, Rhapsody, CDBABY, Awal, and many other online retail music sites.
Skope: What does the future hold for VOD Recordings?
VOD: Our relaunch has started the engine running again and we just need to make sure we have a full tank of gas to get us into the position we want to be. But in all honesty our focus will be on distrbution, publishing, artist management, licensing, and to help develop our artists careers & music so the world knows who we are.
Be sure to check out VOD Recordings and look for GALILEE's debut e.p. Robot Arms coming out July 9th, and Mr.Dar's forthcoming album Sanctuary in August, 2013 http://www.vodrecordings.net.
Douglas Garnett – http://digdugdisaster.com – douglas.garnett@gmail.com