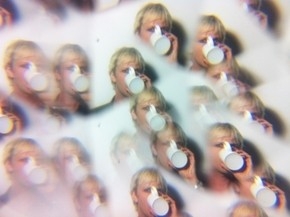 Sam Flax recently provided the exclusive soundtrack for Saint Laurent's Spring/Summer 2014 collection at Paris Fashion Week. Hedi Slimane commissioned Sam to create a 20 minute extended version of his song "Fire Doesn't Burn Itself" specially for last week's runway show. The show was one of the most anticipated of the week, with a number of music notables in attendance including Beck, Mike D., Thomas Bangalter of Daft Punk, Nicolas Godin of AIR, Sky Ferreira, as well as Milla Jovovich, Salma Hayek, Anna Wintour and other staples of the fashion world.
https://soundcloud.com/yvessaintlaurent/fire-doesnt-burn-itself-by-sam
Originally released on his Age Waves LP (Burger Records), the new reworking of "Fire Doesn't Burn Itself" stays true to it's original spirit while simultaneously twisting in on itself, diving into previously uncharted layers of shimmering echo and transcendental fuzz.
http://www.ysl.com/corporate/us/saint-laurent-collections/menss14/