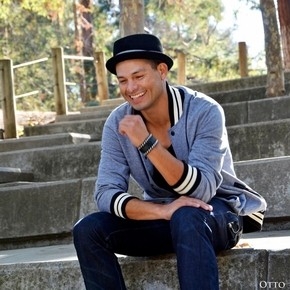 Influenced by Top 40, Xavier also embraces all types of music, from disco, rap, rock, raggae and R&B, rolling it up into an energetic urban dance pop. His love of performing has left audiences across the globe entertained, being praised for having a "ton of energy" and a strong stage presence. Partly due to his acting resume, which includes national commercials for Nextel, NASCAR and Sony PlayStation. Without further ado…
Skope: First we need to mention your video for the song "To The Sky" which is a bonus track from your album "X", the video on your YouTube channel has received over 60,000 views and keeps growing. And now its featured on VEVO. Congratulations on that!
"To The Sky"
http://www.youtube.com/watch?v=OItACCtMnMQ
Skope: You have a new album coming out, how would you describe it for the uninitiated? How would it differ from "X"?
Xavier: Great question! X was a radical experience for me. Making the album completely changed the way I thought about and felt about music. It was a collaboration with independent producer cHouse (pronounced "C – House"), from San Francisco. He composed all the songs, I wrote all the lyrics and came up the melodies for my words. I think that album can be best described as an eclectic blend of genres, but totally based on dance-pop rhythms. We threw in some Rock, a little Reggae, and Hip-Hop to give it some flavor. It's like the Bay Area, which if people are familiar with SF, they readily notice that it is peppered with many cultures. I wanted people to experience some of that feel, all the while wanting to make them want to dance to what they were hearing.
The new album is coming at a time where I have matured so much, both as a lyricist and performer. In that sense, you are getting a better "X". The songs on the new album will definitely reflect how much I have grown as an artist. And believe me, I've had to go through a lot, so I suppose you can say that it will be a richer album.
Skope: What is it about pop music that you connect with?
Xavier: Pop music is about EVERYTHING! It can be that escape into the one little corner of your mind where the world suddenly changes into a different and much better place. Or a holding onto a feeling that you want hang with because you're not ready to let it go. For instance, everyone has that one song they play to feel happy. As well as that song that just fits a mood at a particular time. Here's an example, I have a break-up song on "X", "Threw Me Away", and from time to time, I get messages from people who say that they've listened to the song while going through their break-up. I think pop music is at every inch of the music spectrum. From songs that make you forget your troubles, to actual catharsis through relating with another person in song, about a similar experience. Pop music is everything! Crossing all sorts of boundaries; age; sex; sometimes religion; etc… I could go on forever with examples.
Skope: As a performer you've travelled around the world, what are some of your favorite places to play?
Xavier: I hope not to disappoint you with my answer. The best place to be is in the moment – just wherever I may find myself. I've sang in coffee houses with just a handful of people, and also have been fortunate enough to perform for thousands at a time. I try my best to be present, and put my soul into the moment. So I am happy to perform wherever I may find myself.
Skope: Most pop singers/performers don't write their own mateial. Do you write your own songs? Do you work with a producer?
Xavier: I have written every single song myself. Except for the covers, of course. However, I am not a producer, I do collaborate with them to create songs. Perhaps it is safe to say I am more of a poet in song and not a composer. Every single song that I create, has a piece of me; that, you can definitely say.
Skope: Do you perform any cover songs live, and if so, which ones?
Xavier: I have sang a ton of covers! However, one really stands out for me because it feels amazing to sing, and gets such an awesome reaction from people. It is Mark Ronson's version of "Valerie" ft. Amy Winehouse. I sing it pretty much like she does (if it isn't broken, don't try to fix it), and I just don't ever get tired of it. It's amazing to see how much people light up when they hear it.
Skope: You're also an actor, is there a difference to you between acting and performing music?
Xavier: Only a slight difference. You see, I am a method actor, I definitely feel when I act. I just don't know any other way of acting… That said, I infuse my performances as   singer with my feeling. I literally feel my lyrics. When I first started, I was too focused on trying to be technical, and on pitch, and the delivery of "a really good performance". Which was all well and good. However, it all changed for me when I started to forget about those things and just "felt" my songs in the moment. It was a radical difference, and by doing this, I allowed my feelings to project. It helped me to connect with people.
Skope: Which do you prefer and why?
Xavier: Singing… BY FAR! Acting is great, but it just doesn't feel as rewarding as singing. Can't even tell you why, I just know it feels much better.
Skope: Will you be touring to support your new record and any idea of when it's coming out?
Xavier: You can say I have been touring on the fly since 2008. So yes, I will! The album should be out by the fall of 2013. It is titled "Feels So Good". You can keep track of all the fun on on my web site. It is always up to the minute. Thank you for having me!
If you're looking for something fun for summer, check out http://xaviertoscano.com and be sure to check out his album "X" and an announcement will be made by Xavier when the new album drops.
Douglas Garnett – douglas.garnett@gmail.com – http://digdugdisaster.com