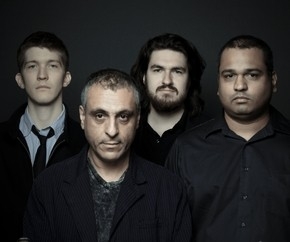 Hello everyone out there, I hope your week is off to a great start! It seems like everyday we witness how the Internet is revolutionizing all indsutries from music to TV and more. Well I read an article in Variety yesterday how radio is next up in a major way. I enjoy apps like Iheartradio but I hope that radio can keep it's local & diverse choices of music. There are some corporations that would love for us all to listen to the same music nationwide. Thanks to the Internet that will never and shouldn't happen. Today I am super excited to have a repeat guest who the world knows as Mehran. Having Mehran back on makes me so happy as it tells me we are covering artists with passion, talent, & longevity. Mehran is speaking on his new album "Subterranea.' I have listened to the album and to be honest, if you immerse yourself in the music you will experience 51 minutes of peace & calm, amazing! Join us today as Mehran speaks on everything from the new album, Chicago gang violence, what he has been doing since 2011, staying inspired, and much more!
Stoli: Where are we talking from today and are you excited that summer starts tomorrow?
I am in Chicago, the windy city, that's where I live. Definitely, summer is busy for us musicians with all the festivals and shows going around the city, it is always full of adventures.    
Stoli: I am saddened by the violence we are seeing in Syria & Chicago, IL. How do you see all this destruction and can anything be done to achieve peace?
Oh, wanna get political on me right away. Well, funny how you bring up Chicago. Yes, we have a lot of violence here in town and majority of them are localized to a few areas. Chicago has had a long history of gangster activities that goes back to the times of Capone and Dellinger. Nowadays these activities are a lot different. They are more widespread and neighborhood specific. For a lot of poor folks, it's the thing to do since finding jobs have become more difficult.
The violence in the Middle East is another issue. To be frank, I think as long as there is oil in the region, there will be wars, uprising and violence. There will be manipulation and government toppling.
All in all, I feel as human life has lost a lot of its value. It is preposterous as we and our societies are supposed to be moving in a positive direction as we become more civilized. Unfortunately though it seems like our weaponry development and aggression is on a faster pace.    
Stoli: The last time you were on Skoped Out was April 2011. How have you grown since then on a music & personal level?
Much has happened since 2 years ago. I started to write the music for my next Cd, 'Subterranea' right around that time. I also went through a transformation of my music. I felt like my first Cd 'Angels of Persepolis' was a bit scattered. It was my debut Cd so I wanted to show what I knew in Flamenco. I also used a lot of different musicians to give the songs different textures.
This time around, I wanted to dig deep within myself and go back to what drew me to the guitar in the first place. I grew up in the 70's and I was so exposed to the music that today we call "Classic Rock". In a way I have been missing playing that style. So, I decided to mix the psychedelic sound of the 70's with the Flamenco guitar. To do that, I had to form a Rock band and after doing so, we rehearsed for a while and the guys learned the songs and added their own spin on them. When all were ready, we headed into the studio on the summer of 2012 and recorded 'Subterranea'.
Stoli: I was so excited to hear your new CD 'Subterranea.' How long did you work on that and how has the response been?
I think the hard part was to pick out the musicians for the group. So, I started to look around. On drums I brought in Sam Werk who is heavily influenced by John Bonham. Sam also performs regularly with Afro Cuban and Puerto Rican ensembles around town. On keys we got Carl Kennedy who is a jazz keyboardist/pianist who just finished up his masters degree in jazz performance. He is well versed in blues, rock and world music. On bass we brought in Krushanu Joseph who was my Flamenco guitar students for a couple of years. The fact that he was familiar with Flamenco was very important to me.
I spent a year writing the songs and performing them with different musicians around town until it was time to record. That is when formation of the band was completed. We spent 4 months in studio recording the Cd. During a short period of it, I had to have hand surgery to release my carpal tunnel syndrome that flared up while recording the solo piece 'Moonlight Sonata'. I practiced that song for 6 months, playing it several times a day. The cords where a bit unnatural for the guitar as it was written for piano and were really stretched out wide. I think doing this really flared up the tendons in my wrist. So, there was a hiccup for a couple of weeks.
Just about when the Cd was almost ready, we shot a music video of one of the songs, "Into the Abyss". We rented the basement of a huge print shop in the south side of Chicago to give it that dungeon look. The song has a lot of Prog Rock feel to it and makes an excellent action movie soundtrack. It is filled with lots of tension and release and I even played electric guitar on it in addition to the Flamenco guitar. This pretty much defined the route we want to go which is a little Flamenco and a lot of gritty, exciting mixture of modern and psychedelic Rock.
So far the response has been great. We have got upward of 50 global reviews on European magazines and global music websites and blogs. Most of them talk about the uniqueness and the freshness of the music.
Stoli: I just "Liked" you on Facebook. How much time do you spend on social media daily and has it helped with promotion?
Yes, I am pretty active on the social media front because it's a good way to stay connected with our fans and spread the word on our doings. Unfortunately Facebook as of recent has become very profit oriented and is forcing musicians and bands to pay for promoting their status updates otherwise only 20% of fans will see them. Therefore one has to be very savvy in this department and figure out creative ways to attract followers. I am a firm believer of if this kind of promotion is done right, it will have good results.
Stoli: I love how you invested in the CD package for 'Subterranea.' In this digital age of downloads what made you decide to go that route?
I am kind of old school and still believe an album should be on hardcopy with an album art and all the credits and other stuff listed on it. Regarding the artwork on the cover, the creator of the artwork is a friend, Siamak Zarrin ghalami. He and I discussed the content and idea. A few weeks later he presented to me his work. There were a few green islands on water and their reflection were modern buildings and high rises that were pointed downward, refering to their being inferior and less desirable. This is the way he interpreted the concept and I really liked it, so we chose to use it. As you move to the right the structure and designs of the buildings and their shadows become more ancient, representing the passage of time.
Stoli: How important was it for you to have the same 4 members for 'Angels of Persepolis' and what gives you guys such amazing synergy?
The current lineup was not present on the 'Angels of Persepolis'. We formed this new group last year to record and present 'Subterranea'. It is important for me to keep things the way they are because we work very naturally together. Everybody is creative and not afraid of experimenting. We all keep our musical individuality and signature in the process of creation. The four of us together have become a pretty solid unit.
Stoli: You will have the video for the song 'Natalia' coming out soon. How did you choose that song and what will the concept of the video be?
In the past couple of weeks we have been shooting a new music video for one of the songs 'Natalia'. We have been working with Carlo Serran and Digitart Studio. As a matter of fact Carlo has done two other videos for us, one of which was the song 'Into the Abyss' from the new release. I am very comfortable with him and have a lot of confidence in his creativity. The video is a very funny and entertaining video. Its concept has to do with a young lady who has to choose between having a relationship with another guy or hanging with us to have all the fun in the world. It will be released in a couple of weeks. We really hope it will go viral because it has great music and is zestfully entertaining.
Stoli: Have you been doing any shows to play the new album live and any shows coming up we should know about?
Yes, when it was released last September, we did three Cd release shows in the Chicago area and before these shows I was invited to NPR radio in Chicago to talk about it and perform some of the compositions live. Our current performances in Chicago also present majority of both Cds and some of the new songs we have been working on.
"Into The Abyss"
http://www.youtube.com/watch?v=Rc5eAL-Cj40
Stoli: I respect & admire your ambition to constantly create and share your music. What gets you up in the morning & inspires you?
To me every day is a new day. Because of the nature of what I do, it may be full of surprises as well. Most of the time they are good surprises. You wake up one day and there is an email from Pandora Radio saying your music has been accepted to Pandora. Another day there may be an email that Skope Magazine wants to interview you or so and so radio station has put your songs in their rotation. I always look forward to the next day because the whole thing is like an adventure that is very enjoyable. I do most of my writing late night and the next day when I wake up, I may wake up with the melody of something I created the night before running in my head. If that happens then I start working on it right away because it must have been catchy enough to be remembered the next day. If I don't remember what I created the night before, it probably gets lost in my brain's vortex of songs that I never revisit and it may be lost forever.
Stoli: I have boys at home that love music and the guitar. What age would be appropriate to get them started and how can parents encourage music & arts in the children?
That is a tough question. My interest in music was never forced by my parents. I just went that way because it seemed so interesting to play an instrument. I think if you are trying to raise a virtuoso, you should get him/her started around 4 or 5. I also have people in their 40's and 50's who tell me that they are sorry that they didn't start studying the guitar. When someone says that to me I get a bit frustrated because they fail to see that learning the guitar is not the amount of years someone has been playing it, it really is how many hours a day you are practicing and who is teaching you? What is important is to study with a very good guitarist with experience. It is always helpful to have a parent that plays the guitar. Kids usually get interested in things their parents do.
Stoli: What is coming up for Mehran and where are you & 'Subterranea' @ online?
We are trying to do performances regularly in Chicago for now. My agent has been working very hard trying to strengthen the artist development phase, so he could start shopping for label which will be happening very soon. Online I can be found at:
Website: www.mehranguitar.com
Facebook: https://www.facebook.com/mehranguitar
Soundcloud: https://soundcloud.com/mehranguitar
You Tube: http://www.youtube.com/user/kamangier
Thanks again for this opportunity and looking forward to see more people getting exposed to our music.
Photo credit: Carlo Serran, Digitarts Studio.