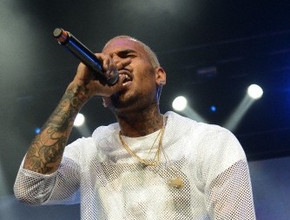 It is really difficult to compete with someone's first love; we all might not know that Rihanna is Chris brown's first love.
Can you imagine been in love with someone like Rihanna? Do you think you can easily get broke-up? It seems hard to be done.
Sadly, Karrueche dealt with that dilemma when Chris dumped her and reunited with Rihanna in 2012. Actually a rumor has been released that Karrueche is happier that Rihanna's out of the picture! Are you interested in knowing why it's so? Then continue reading.
Chris is a hot Commodity to Rihanna and Karrueche, if you don't believe that you might ask these two beauties.
Both beauties have been competing for the "Fine China" singer's affections for the past couple of years. Currently, Chris is with Karrueche and Rihanna's been left in the past, which makes Karrueche very happy.
A source close to Karrueche recently carried an expensive rumor, "Happy isn't the right word. I'd say she's highly thankful she doesn't have to compete for Chris any longer. She's always liked and loved him from day one, but things got complicated when Chris was seeing Rihanna and her at the same time. Even during that stage, Karrueche still stood by his side and loved him from a distance. She never really left when he was with Rihanna she was just a short distance away, so to speak."
This is proof that dedication goes a long way! Karrueche knew what she wanted and she waited patiently for Chris. Even the R&B singer is happier without Rihanna.
Why Chris Brown is Happy with Karrueche Than his Queen "Rihanna"
"He's in charge of his relationship now and calls the shots with Karrueche and she's down with that," the source reveals. "He's cool with where things are with her and so is she. It works out great for him.
Actually it won't be that much easy for Karrueche to get Chris Brown from Rihanna that easily as some rumors has been carried that Rihanna and Chris Brown are getting back gradually.
I actually surf over an article saying that.
Rihanna Is Tired Of Chris Brown's 'Games'
"Rihanna is tired of the games he's playing and she's getting too old to let a man mess with her mind she doesn't have time for that!," a source close to the singer tells that, "She's done messing with him on that type of level but as far as feelings for him, she will always love him," the source explains. "That's been her man for days, so the love is always going to be there."
Hey readers! Who do you really want Chris Brown to date? Rihanna or Karrueche? Let us know your opinion.
Emily Steves is very passionate about music, and likes to blog about the music industry. Check here to be in vogue with the latest show around you.