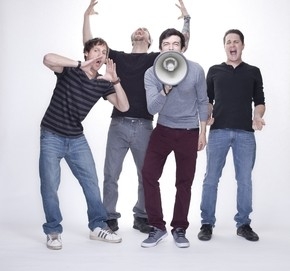 With an impending e.p. "Love.Faith.Wealth.War" and their single "Hits The Ground" already garnering the band attention, WUP is ready to take on the masses.
Skope: First, the name… what does it mean to you guys?
Wake Up Paradise:   Basically, our name is our mission.   We want to Wake Up Paradise.   This world is our paradise.   Or at least, it can be.   We as human beings have lost our way. And it's not "his" fault, or "her" fault, or "they're" fault.   We are all to blame for ruining this paradise.   However, it is possible for all of us to save paradise.   All we want to do with our music is to make people aware of that.
Skope: The single "Hits The Ground" is grounded in funk, with maybe a little Incubus and pop rock thrown in for good measure. What's the song about and who's influenced your sound?
WUP: "Hits The Ground" is about everything that we, as individuals and as a band, are fed up with.   As children we are told how the world works, but then we grow up and realize that the world doesn't work that way.   Well, we think it should and it can.   We just can't be afraid to talk about it.   The sound of the song, however, gives you the complete opposite feeling during your first listen.   Which is basically what we tried to do. We wanted to pull listeners in with our pop sound, while still sending an important message.   We also try and give out an old school rock feel, to show that we respect our roots.   All of us being born in the 80's and raised in the 90's, you can imagine the wide variety of artists that influence us individually and as a band.   Sublime, Red Hot Chili Peppers, Backstreet BoysÉand yes, Incubus.   Just to name a few.
Skope: Being based in New Jersey, is there a strong scene for your type of music and what other bands do you guys support locally?
WUP:   Given our type of music and the fact that we are "old souls", there isn't as strong a scene for us as we would like.   In Jersey, you're either a pop/punk band, hardcore band, or a DJ.   Don't get us wrong, we love Jersey and have plenty of friends in bands, playing all types of music, but I wouldn't say we've found our "buddy band" yet.   However, we are looking. So, if you know any, let us know. ; )
Skope: With more and more bands taking the independent route instead of looking for deals, what are the advantages in your opinion?
WUP:   If you do it right, the DIY route can pay off financially and artistically.   With no one to pay or satisfy but yourselves, the possibilities are endless.   With internet radio, blogs, webzines etc., there are hundreds of ways to get your music heard. You just have to find them.
Skope: Do you think the music industry will ever become the behemoth it once was if it adapts to new mediums and business models?
WUP:   The music industry has no choice but to adapt to how people are creating and accessing music today.   As far as the actual music that is being pushed and marketed, there is always room for more music.  
Skope: Back to the e.p. "Love.Faith.Wealth.War", what can we expect to hear on the rest of it? How much musical landscape do you guys eschew?
WUP: You can definitely expect some rock and roll!   That being said, our pop, soul, jazz, and hip hop influences do come out throughout the album.   Tim's unique pop/soul vocal style is what makes all of the songs uniform and ensures the listener always knows that they're listening to WUP.
Skope: I read that you're doing short sets of tour dates mostly in the Tri-State area, any plans on cross country after the release?
WUP:   Yes, we are playing some local shows to try and build some buzz to promote the EP.   As far as a cross country outing goes, let's just say, we are hoping our Winter will be very exciting.
Skope: How has live performing helped your band? Are you a 'must see' live band or more of a studio operation?
WUP:   Performing live always helps.   Tim and Roger have been in bands together for years, so you can count on them to satisfy the "must see" aspect of the performance.   Then again, even though they are rather new to performing live, be sure to keep an eye on Lou and Sal. They tend to pull a trick or two out of their sleeves once in a while.   We actually took specific steps to ensure that our recorded songs have a very raw and natural sound. So, what you hear on the album is what you hear live and vice versa.   We can only play our hardest and hope the people feel the same.
Skope: Are any of you guys in college? And speaking of college, any radio support among college airwaves?
WUP:   None of us are in college.   College airwaves are our first stop once we get this EP finished. They tend to prefer physical copies.
Skope: Any shout outs or last words?
WUP: Don't talk about it. Be about it. WUP! WUP!
Wake Up Paradise on Facebook for more info @ http://facebook.com/WakeUpParadise and be sure you check out the new single "Hits The Ground" out now!
By: Douglas Garnett – douglas.garnett@gmail.com – http://digdugdisaster.com