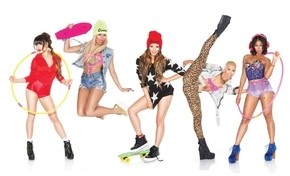 Co-written by hitmakers Dr. Luke and Max Martin as well as Bonnie McKee and Henry Walter and produced by Dr. Luke, Max Martin, and Cirkut, "Vacation" is a perfect introduction to G.R.L., which is Simone Battle, Lauren Bennett, Emmalyn Estrada, Natasha Slayton, and Paula Van Oppen.
G.R.L. – "Vacation"
http://www.youtube.com/watch?v=avOhYJjoJw0
The roots of G.R.L. lie with dancer, choreographer, and Pussycat Dolls creative director Robin Antin, who was looking to work with highly talented singers and dancers for a new group. She had already selected Lauren Bennett and the rest of G.R.L. came together organically over the last two years.