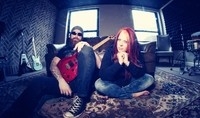 "Love Song Cliché" is the new single from Illinois rock duo Joy Focus. Musician Rikk Currence and singer Holly Joy have been purveying their "kid tested & mother approved" music since late 2001. From this union have emerged three albums and seven singles, the latest of which is "Love Song Cliché."
It's a pleasing, eminently accessible track, full of youthful teasing energy and a touch of pathos.
"Love Song Cliché"
http://www.youtube.com/watch?v=UH5B6sibr38
In the early part, heavily palm-muted guitar chords provide a nice percussive backdrop on which the vocals can serenade. At first, the vocal component is kind of precious and dreamy: "I learned from my radio / a long time ago / in a galaxy far away…"
There's an almost haunting pathos to the lines: "There's a shred of truth in every song / That's how they get us all to sing along."
There's something both sweet and tragic about Holly Joy's voice during the chorus: "When it's all done and through / Nothing left you can do / Just remember that I'll be your love song cliché."
Am especially a fan of the way the last three lyrics here are sung, which is probably a good thing, given that those three words comprise the song's title.
It's also a great, almost infectious chorus instrumentally. All these instruments unite for a punk-pop symphony.
"If you want the best of me / Then the rest of me comes along."
I missed these two lines the first time 'round. Was probably just busy diggin' the track in general. But these are some lyrics that can be applied to so much of interpersonal relationships in general, and so much of life beyond that.
Having already listened to this track eight times over, it shall be the defining emotional experience of my day.
"Love Song Cliché" is combat-ready for the radio, and your shattered heart.
You can listen: http://soundcloud.com/joyfocus/love-song-cliche
Or purchase: https://itunes.apple.com/us/album/love-song-cliche-single/id639053387?ign-mpt=uo%3D4
Or visit: www.joyfocus.com
 
Ray Cavanaugh – owleyesgatsby@yahoo.com