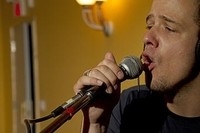 This 4 piece Alternative Rock band from Winnipeg, Manitoba call themselves Mailman's Children. Their latest release: Supply and Demand is sure to be remembered as one of the more remembered modern Alternative Rock-Pop releases of our time from Canada. Its pure College Rock the way it used to be via full-tilt of playing, hooky grooves and a top tiered sound. It's the ultimate in musical intoxication. Before I get to the review let me first say Mailmans Children will take you back to a simpler, happier more carefree time. A time before artists started hanging out the dirty laundry to dry on the radio. That felt good to say!
Official URL: http://www.themailmanschildren.com/
This band opens with "Undercover" a crisp fast paced number with guitar, drums, bass, and solid vocals from lead singer Eric LaBossiere. "Crazy Witout It" takes it to another level with its classic alt-rock vibe, perfect for full tilt club atmosphere. The 3rd track "Do You Wanna Be Right" lets it all hang out with catchy vibe, fun musical landscape full of power and intrigue. One thing that impressed me about this album/band is the attention to detail, there is an ambience that really sucks in the listener into their musical world — very professional. The instrumentation and tones give you that genuine feel of good music and writing from a generation ago, it has a solid feel reminiscent of music popular in the mid nineties. These cats remind me of a modern day version of Violent Femmes. All members are solid visually, musically and give off a youthful spirit. . Band members include: Joel Couture (Bass), Joel Perreault (Solo Guitar), Eddie Vesely (Drums), Eric LaBossiere (Vox, Rhythm Guitars).In many ways LaBossiere is the strongest card in Mailman's Children Mailbag. Supply and Demand captures the youthful spirit of indie-rock scene which will ring true not only for older more experienced listeners but new ones as well. This latest release from Mailman's Children wraps up a well rounded and interesting cross section of classic Alternative Rock, Indie-College -Rock and Psychedelic Pop. Despite this it is accessible to modern day listeners. How is this possible? Only an experienced band can pull it off, backed by a solid producing effort from both musical mastermind Eric Labossiere and JP Peters of Private Ear Recording.
Sad to say music like this is sorely missing from the 2013 repertoire. Mailman's Children is an exception to this rules and does more than fill this musical void, they can hold their own against any hot running band out there right now — especially north of the Border.
Rating: 4.5/5 Stars
Posted by Scottie Carlito edited by Markus Druery
Comments: jannezawa@gmail.com