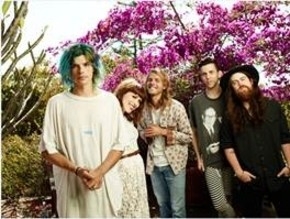 Canvasback Music/Atlantic recording group Grouplove has announced early details of their much-anticipated new album. Produced by the band's own Ryan Rabin, "SPREADING RUMOURS" arrives in stores and at all online retailers on September 17th.
"SPREADING RUMOURS" which follows Grouplove's acclaimed 2011 debut, "NEVER TRUST A HAPPY SONG" — will be led by the new single, "Ways To Go." "Ways To Go" made its world premiere on Alternative radio station KROQ in Los Angeles today, and is available Tuesday on the iTunes Store and all other major digital retailers. Additionally, a limited edition flexi-disc book — featuring the album's thirteen tracks on individual vinyl "pages," each with original artwork by Grouplove's Hannah Hooper will be exclusively available for pre-order on the band's official website www.grouplovemusic.com.    
The companion music video for "Ways To Go" premiered on the band's official YouTube channel and can be viewed at http://youtu.be/VGvHnDeS12o.